Alumnus Scott Frederick Finds Success in Michigan's Changing Energy Industry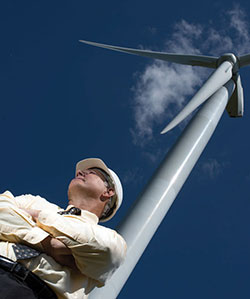 When he graduated from Ferris' College of Business in 1987, Scott Frederick was looking to start his career as an accountant. Headed to an interview at Wolverine Power Cooperative arranged for him by what would later become the Office of Career Services, Frederick did not yet know that it would be only the first step in a tremendously exciting series of opportunities with the Michigan energy provider.
"When I was first hired, the accounting department at Wolverine Power Cooperative had seven people, and four of them were Ferris grads. I was called for an interview for the position at Wolverine by Ferris' Placement Office," says Frederick. "The Placement Office was a great tool. I interviewed and got the job."
Frederick eventually rose to his current position as CFO of Wolverine Power Marketing Cooperative — one of Wolverine Power Cooperative's seven members and an alternative electric supplier in the state. He is active in the university's Alumni Association and credits his Ferris experience with his preparedness for the challenges of his rewarding career.
"College courses at Ferris make you a well-rounded person — not just 'book smart.' My studies helped me learn to work with people and interact," Frederick says. Wolverine's practice of hiring Ferris graduates continues today. The co-op has brought on two Ferris graduates in the past year, alone.
"We've noticed, in hiring Ferris grads, that they're ready to go in the workforce," Frederick adds.
In 2000, the Michigan state legislature passed the Customer Choice and Electricity Reliability Act, allowing electricity customers to choose a power supplier. Wolverine Power Marketing Cooperative was launched to participate in the choice market.
In 2008, Michigan legislators enacted the Renewable Energy Standard, which requires that all electrical utilities supply power derived from a minimum of 10 percent renewable resources by 2015. Wolverine Power Cooperative had already taken the lead on renewable energy in the state, purchasing the total output of the Harvest Wind Farm, Michigan's first commercial-scale wind project, prior to the renewable energy requirement.
Both laws brought change to the electric industry — change that required the talent of Ferris graduates.
"As cooperatives, we look for innovative ways to provide reliable power to our members at a competitive price," Frederick says.
Ferris' College of Engineering Technology students are set to play a major role in the development of alternative energy in Michigan. The first class of students in Ferris' new Energy Systems Engineering Program will graduate in May 2014 but is already gaining excellent job preparation and making great professional strides.
There is significant demand in the job market for engineers with training and expertise in transmission and distribution of electricity, electrical grid control and alternative energy applications such as wind, biofuels and fuel cells, and energy efficiency-related technologies and products. Michigan power suppliers who are readying for the activation of the 10 percent requirement in 2015 will employ graduates and interns such as those from Ferris' ESEN program to help implement new alternative energy technologies.
One of them is student Zach Totten, a senior in the ESEN program who is set to graduate in May 2014. In summer 2013, he interned at Cascade Engineering. He also works at Ferris' Michigan Energy Center, which provides consumer energy audits for commercial and residential buildings and conducts various studies on energy efficiency. The service learning program and its director, Associate Professor Arn McIntyre, were awarded a Ferris Foundation Merit Grant in 2012.
"After graduating from Big Rapids High School in 2010, I came to Ferris to find a unique program that would provide a promising career. After hearing about the ESEN program, I was excited to join the first class," says Totten.
"What sparked my decision was that Ferris is one of the first universities to incorporate this program into their curriculum. Knowing that there will be a demand for these engineers due to the nation's increasing energy use, and having my interest in saving energy, I knew this was the program for me."
Upon entering the job market, students from Totten's program will be well-prepared to take on the technical challenges that come with increased use of renewable energy supply.
"Ferris has proven to be the correct path for me. The smaller classes give each student more time to ask questions and grasp the information each professor is providing. Some of my favorite classes include interactions with many students in various programs, such as electrical and mechanical engineering," Totten adds.
"As I progress through each class, the information from all previous classes comes together in 'A-ha!' moments. Having all the knowledge come together helps to set that information 'in stone.'"
Totten is excited for graduation because he anticipates having many great career opportunities. ESEN graduates are ready to work in energy production, control and management.
"As my graduation date comes closer, my goals start to become more relevant. As soon as I entered the program, I was interested in wind energy. My long-term goal is to be the project manager of a large offshore wind farm on the Great Lakes, and one of my short-term goals is to provide energy consulting or implement renewables for residential and commercial consumers," he explains.
Though he looks forward to success as an in-demand professional, Totten also sees his job path as a real calling.
"I am extremely excited to enter the industry as it builds. With the high demand in energy and the diminishing supplies of fossil fuels, it is important for students at Ferris, like me, to help implement renewable sources."
A Tradition of Partnership
Wolverine Power Cooperative has a long history of providing power supply to its members. The company can trace its roots back to the Wolverine Electric Company, a generation and transmission electric cooperative that built original power lines and was headquartered in Big Rapids in the 1940s.
However, the ties linking Wolverine Power Cooperative, Wolverine Power Marketing Cooperative and Ferris don't end with the location of Wolverine Power Cooperative's early headquarters or the supply-and-demand of highly-qualified graduates.
In 2001, shortly after legislation allowed for consumer choice, Wolverine Power Marketing Cooperative presented Ferris with an opportunity to become a member at considerable savings to the university. Since becoming a member, Ferris has enjoyed significant energy cost reductions — an important part of the university's larger efforts to keep operating costs low.
"The value Ferris has received through the relationship with Wolverine Power Marketing Cooperative through the years is both financial and technical. Ferris receives low competitive rates," says Dan Sovinski, Ferris' certified energy manager.
"The decision to move forward, away from the norm of traditional, bundled electricity purchasing was based on obtaining the lowest electricity costs with the least exposure to risk to Ferris."
The relationship also involves close monitoring of electricity demand and usage.
"The electrical staff at Ferris has received in-house safety training from members of the Michigan Electric Cooperative Association. This has helped to provide campus planning. The traditional, bundled electricity purchasing typically does not provide this type of real-time monitoring," adds Sovinski, a professional engineer, College of Engineering Technology instructor and alumnus of Ferris' Master of Business Administration Program.
Wolverine Power Marketing Cooperative also was the title sponsor for the 2013 Ferris Foundation Benefit, which supports student scholarships and faculty project grants.