You never know where the idea for a better product will come from. For example, Jessica Zarate's inspiration for a better way to collect crime scene evidence involved a hacksaw and pore cleansing strips.
Several years ago when Zarate (EHS'03) was a police officer in Northville, Mich., she was helping process evidence from a homicide case. The collection of this evidence required the use of a hacksaw to cut apart a large, heavy lamp in order to take it back to the lab for processing.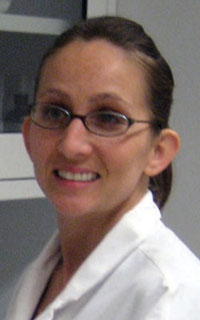 "For non-blood, latent impression evidence, a forensic scientist or police officer at the scene can simply dust the impression with a powder and lift it with a tape. For blood-impression evidence, before I developed this lifting strip, there was no product to do that," explains Zarate. "So objects with bloody impressions had to be physically removed and brought back to the lab to be processed using chemical enhancement techniques."
The fluorescent lifting strips Zarate developed are sold under the brand-name Zar-Pro. It took her about three years with additional funding through a Midwest Forensics Resource Center and National Institute of Justice grant to perfect something that would bond to and preserve bloody and proteinaceous impression evidence from virtually any surface. Her "ah-ha" moment came when, on a whim, she tried using a pore cleansing strip to lift a blood impression. It worked.
"I was doing research on titanium dioxide, trying to get it as a paste to enhance impressions I was lifting with things like black electrical tape or duct tape. I tried hundreds of different kinds of tape, but was unable to get any of them to really work well," says Zarate.
Pore cleansing strips also use titanium dioxide, and working from that technology Zarate went on to develop a chemical formula with a high-affinity bond for proteins. This effectiveness was in part due to the addition of metals in their smallest particle form which are embedded into the lifting strips, creating fluorescent impressions when visualized with alternate lighting. Zar-Pro also uses a photo fixative, so the lifts are preserved like a photograph that can't be scratched, smudged or otherwise altered.
Zarate built her research on previous studies by researchers also trying to meet this crime-fighting need. She credits work done by the Minnesota Bureau of Criminal Apprehension, the DEA and the FBI.
"Titanium dioxide has only been used as an enhancement chemical for fingerprint impressions, maybe within the last 10 years. It has shown to be effective for enhancing bloody impressions, as well as non-blood impressions on the sticky side of the tape, and it's non-toxic," explains Zarate. "For these reasons, it was a clear choice to utilize in the lifting strip formula which is then bonded to a nylon transfer membrane. I just kind of hit the jackpot when I found out how I could make the two come together. Bloody impressions can now be lifted, enhanced and preserved, including those deposited on difficult substrates such as denim or cotton and aged impressions up to six months old, which cannot even be visualized with the naked eye."
Zarate is now trying to overcome other problems in the field, including the development of a gel-based blood lifter for lifting bloody impressions from textured substrates and a long-lasting fluorogenic small particle reagent spray using the same technology. Prototypes have been developed for both of these.
To bring the Zar-Pro to market, Zarate licenses the product to Arrowhead Forensics and Tri-Tec Forensics, for manufacture and distribution. The product has been validated and adopted into procedural manuals in forensic labs across the country, including the Michigan State Police Forensic Science Division, which collaborated with Zarate on the research project. It is also being sold and used internationally in countries such as Canada, Mexico, The United Kingdom, France, Australia, South Africa, The United Arab Emirates and Korea, to name a few.
More information is available at zar-pro.com.