Mike Suman (T'70, B'04) says he likes to tell people he is an "addicted inventor" and is going to write a 12-step program: "Step one would be to put your idea down on paper, admit that you're powerless under the romance of what it could do to you and back away," he says with a laugh. As with all humor, the comment has the ring of truth.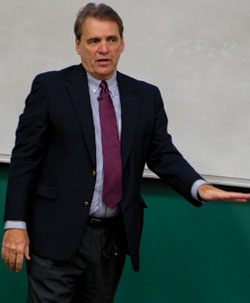 Suman, who recently filed for his 50th patent, has launched several business ventures, including a compact wallet money clip (safepocket.net) and a holder for tablet computers and e-readers (edisplayholder.com).When he spoke to Ferris students last fall in the Entrepreneurship Institute's first week-long event, Suman brought a prototype of the e-holder with him to help students see the development process.
"I tell them what I'm trying to do to find out if there's a market or not, which costs just a few hundred dollars," Suman explains. "I talk about how to get a brochure done, how to go to a national show and test your idea before maybe you even have a prototype."
Despite his passion for inventing and bringing products to market, Suman hasn't always been in business for himself, although, when he was still in his 20s, he successfully pitched his improved leveling jacks for recreational vehicles to a manufacturer: "I walked out of there with a handwritten contract, a check for $25,000 and five percent of sales for five years."
He is well acquainted with the corporate world, having worked in engineering and product development for the former Oldsmobile Division of General Motors, as chief engineer and head of sales for an auto-related company in Kentucky, and as vice president of advance sales for Prince Corp. in Holland, Mich.
While the risk-taking involved with entrepreneurship may seem daunting, it can look much more attractive after the pressures of corporate life. Suman also was a group vice president for Johnson Controls' Automotive Division.
"When you're an executive vice president at a $22 billion-plus company, and in charge of advance sales, there are no weekends," says Suman. "I had to be in Japan once a month and Germany once a month and England once a month. And even though we had corporate planes, there was no day or night. It's exhausting at that level. When I turned 50, I decided to turn my back on the benefits and try something new. It might have been a little exhaustion, a little about not wanting to run my life on the edge like that."
Today Suman, founder of Product and Market Development LLC, helps other inventors refine their products and make the transition from inventor to businessperson. For example, with West Michigan resident Lynn Smith, he co-invented a no-assembly-required shelving system(ileanstore.com), which was shown in the Museum of Modern Art in New York and is being sold in its Manhattan stores. He is involved in sharing his expertise through his association with the Grand Rapids Inventor Network and the Muskegon Inventors Network, and through his book, Should Your Idea Become a Business? He also hosts a weekly talk radio show called "Innovation Talk" on WGVU in Allendale.
Ferris Magazine asked Suman to distill some of his experience gained in both the corporate and start-up worlds.
Ferris Magazine: What is an entrepreneur?
Mike Suman: In my book, I ask "Are you an inventor? Are you an innovator? Or are you an entrepreneur?" I define an inventor as someone who can see something they use every day and say, "Wow, this idea would improve that function." An innovator might say, "Hey, I noticed you did that to that product, Mr. Inventor. I think we could make a product out of that." Then, an entrepreneur comes along and says, "I think we could make this a business." An entrepreneur is going to know about the balance sheet side of the business. I have met very few people who are all three.
FM: What is the best single thing a person starting a new business can do?
MS: Research, research, research. And get somebody else to do your research. As inventors we don't want to call our own puppy ugly, and so we don't look deep enough because we're so in love with the concept. If there's no market, then you don't need money. That's my number one rule. My number two rule is, if there's no market, then you 14 don't need money. My number three rule is, I thought I told you not to borrow money! For a new entrepreneur, debt is just a killer.
FM: What is the one thing you wish you had done differently?
MS: One of the hardest places I ever sold was inside companies I worked for. Even if you're an executive, it's hard to get things done. I learned probably in my mid-40s when people would come to me as a devil's advocate, I would get defensive. Then, I was watching a Steven Segal movie where he uses a fighting style called Akido, which is based on using your opponent's momentum against them. So when people would come to my office and tell me what I was working on was not a good idea, I'd close the door and thank them for coming in because it was clear they had an emotion over the idea, which is what I was looking for. Instead of pushing back, I'd ask them what they thought we should do. So that's the one thing I'd do differently — I wish I would have learned that lesson earlier in my career.
FM: Any final words of advice for people who want to strike out on their own?
MS: The one thing I tell all students is, when people push back at you, don't fight them. Learn from them. Find a mentor. It takes hard work to be an entrepreneur; it takes a good education. To start and run your own business, you have to be ready to do the things you do not want to do. It takes listening skills. It takes luck, but everyone has the potential. I tell them when I was sitting in their seats as a student, I had no idea I was going to accomplish the things I have. There is no way they have a clue of what their potential is at this point — but it is huge, so believe in yourself and aim high!