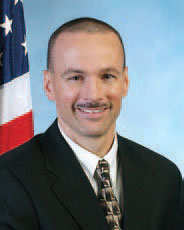 Making moment-to-moment decisions may be the best thing Tim Murphy ever learned as a student in Ferris' Criminal Justice program.
That skill has served the 1983 graduate well during his nearly 30-year career in law enforcement, most notably as the No. 2 man in the Federal Bureau of Investigation.
"I knew, coming out of Ferris, that I would be ready to hit the workforce running," Murphy said. "It is a practical program. The classes are taught by quality professors and instructors, but besides the academic achievements of those individuals, they also have practical experience in the field in which they are teaching. They understand and know what a future graduate is going to face, what the job will be like, what the culture will be like, what the challenges will be. I would say the most transferrable skill I learned was my decision-making ability."
Murphy, who retired in September 2011 as deputy director of the FBI, began his career as a police officer in Green Oak Township, Mich. When eyesight restrictions prevented him from joining the Michigan State Police, he chose to pursue a post with the FBI. After the two-year process, he entered duty as a special agent in 1988, assigned to the Newark, N.J., field office working organized crime and drug investigations.
"I loved doing it," said Murphy, a 1979 Whitmore Lake High School graduate. "I've always said the two best jobs are a street cop and a street agent. I never thought I'd be in management in the FBI; I never thought I would be one of the leaders. The plan was to retire from the FBI as a street agent."
Wishful thinking. Over the next 23 years, Murphy was assigned to various field offices and managed a variety of investigative matters, from counterterrorism to cybercrime. He served as a pilot in the FBI's aviation program and worked in the special operations, technical operations, undercover operations and surveillance programs.
Despite hopes of returning to field work, he was asked to apply for a supervisor position, "and the rest is history," he said.
He was working as a supervisor in the Tampa field office on Sept. 11, 2001.
"Everybody's lives changed," he said of the terrorist attacks on the United States that killed more than 3,000 people. "It had an emotional impact. Could we have prevented it? What do we do now to ensure it never happens again? I also felt an immense sense of pride at how the FBI, the United States government, state and local governments, foreign governments and partners from around the world responded. It was like nothing I have ever witnessed."
His interest in returning to the street was overtaken by a desire to do more, "to have a bigger impact in helping others," he said.
"A lot of us said, 'You know what? We need to be involved more. We need to be in leadership positions in the FBI.' People rallied; everybody stepped up. We just needed to do more, be more involved in this."
His role in the FBI grew. He served as assistant special agent in charge of the Washington, D.C., field office and as special agent in charge of the Cincinnati office.
His positions at FBI headquarters in Washington, D.C., included special assistant to Director Robert Mueller and as assistant director of the Finance Division. In 2008, he became associate deputy director, managing the FBI's personnel, budget and infrastructure, and two years later he was named deputy director, leading and managing, with the director, the day-to-day operations of the FBI.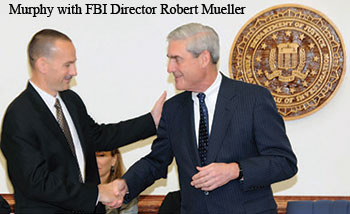 "In that position, you carry out the business of the FBI – 36,000 employees and a $10 billion budget — executing the director's vision of what the FBI needs to do," said Murphy, whose day typically began at 4 a.m. and included briefings with the president.
"You guard against, understand and solve problems, wherever and whenever they occur, and see issues before they become problems. You understand that everything you do should somehow connect back to protecting the U.S. from terrorist and foreign intelligence activity, combating criminal activity that threatens the safety and security of society, reserving civil liberties as well as providing leadership, intelligence and law enforcement assistance to our partners. That is what the American public expects from the FBI."
After two decades with the organization, Murphy retired to take a position as vice president of corporate compliance for MacAndrews and Forbes Holdings in New York City.
"I had a great FBI career — a chance-of-a-lifetime career — and now I have a great private-sector position," said Murphy, who has been married 25 years and is enjoying the time he can now spend with his wife and two teenage children at their home in Virginia and when they are together in New York City. "My son is 14, and he said 'Dad, I think your job as deputy director of the FBI was pretty cool, but I like this job better.'"
Murphy hopes to be as successful in the private sector as he was in his work with the FBI, because "it plays a large role with government in keeping this country great."
He also plans to help those starting their careers in law enforcement and intelligence.
That means playing a role in the growth and continuing development of Ferris and its Criminal Justice program, including staying on the cutting edge of rapidly changing technology. Murphy visited campus last spring to give a presentation to Criminal Justice students and also is working with other CJ graduates to establish an endowed scholarship.
"A career in the FBI doesn't allow much time to pursue other endeavors, and now I have the time to uphold my responsibility to Ferris and to students at Ferris who are going to be in this fight for many years," Murphy said. "When you're in the FBI, you get a view of what's really going on in the world. I have a responsibility to keep people motivated to get into this type of work, because it's extremely important not only for our democracy but for democracies around the world.
"Here's this kid from Whitmore Lake becoming deputy director of the FBI and having a chance to brief the president of the United States. There's no better place to start a career than Ferris."