There is perhaps no company more associated with entrepreneurship than Michigan-based Amway. Since its founding in 1959, the company has expanded by using individual distributors to sell its products in more than 55 countries. As president of Amway Japan, and former managing director of Amway Europe, Mark Beiderwieden (B'85) has a unique perspective on the state of entrepreneurship world-wide — and it all started because of his professor of German at Ferris, Marianne Heidemann, back in 1985.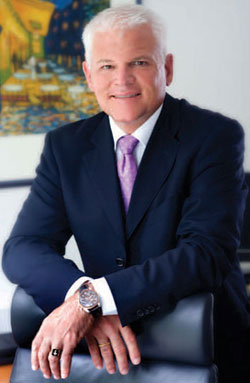 "During class one day Marianne came up to me and handed me a slip of paper," Beiderwieden remembers. "She said, 'I think you would be a good candidate for this program.' I applied and was one of 60 students who were selected from across United States to be a part of the U.S. Congress/German Bundestag Exchange Program."
The year Beiderwieden spent in Germany confirmed for him that his choice of studying International Business had been the right one. "I loved Germany. I loved the international experience, loved new cultures and meeting the people. In the beginning I did not look for my circle of friends to be American or other foreigners in Germany. I wanted to get into the German community as quickly as possible, and I did that," he says.
During the year of the program, Beiderwieden began sending out resumes in hopes of remaining in Europe. He landed a position with a German affiliate of a Dutch industrial ventilation and heating company. While he says the product wasn't a great fit for him, it was an export position and his boss sent him out on a regular basis to various countries to meet with customers.
"I was 23, 24 years old, and I was flying on business to places like Portugal and Turkey, and even Iceland. I even negotiated on a project with Libyans in Belgrade," says Beiderwieden. "This was especially interesting, as the political situation between the U.S. and Libya was at an all-time low."
Beiderwieden's trans-European experience widened when he accepted a position with a German-based direct seller of wine. The company had 17 or 18 affiliates in different countries, and Beiderwieden started out coordinating marketing for the foreign markets. He then was sent to Barcelona in order to set up a Spanish subsidiary.
During one of his trips back to Germany, Beiderwieden got a call from a head hunter who was being typically secretive about an opportunity in Germany to be the national sales manager for an American-based, multi-billion-dollar, direct-selling company. "I said, 'It's got to be Amway.' The head hunter was a bit stunned and said, 'How can you know that?' I said, 'I'm from Michigan, and everybody from Michigan knows Amway, and my brother's an Amway distributor,'" Beiderwieden says.
Beiderwieden accepted the position of national sales manager for Germany, although it meant moving away from a focus on his passion for international business relations. He didn't have to wait long before he was able to again draw upon his broader European experience. Through a combination of company restructuring, growth and personnel moves, Beiderwieden first took on responsibility for sales in Poland, and then moved to overseeing sales in Austria and Switzerland in addition to Germany. His sphere of responsibility grew, culminating in his being named managing director of Amway Europe in 2003. In that capacity, Beiderwieden was responsible for a total of 31 markets stretching from the United Kingdom to Russia, and even markets on the African continent, including South Africa, Botswana and Namibia.
President of Amway Japan as of January 2012, Beiderwieden has a truly international understanding of business and the opportunities for entrepreneurship in a wide range of countries. Ferris Magazine asked Beiderwieden to share some of his insights that he has gained from his years of international business experience.
Ferris Magazine: How does a mature company such as Amway maintain its entrepreneurial spirit?
Mark Beiderwieden: It's a good question. Amway has continued to grow for many, many years geographically by expanding across markets as they opened up, especially for political reasons. But the growth through innovation initiative, or GTI, is basically the beacon we've been following as an organization, not just at the corporate level but also in our various markets. Our employees are challenged to bring forward new ideas, and when they're good they can be cultivated and tested for further roll-out. We've got beautiful examples, not just in Europe but all over the world, where we've been able to exchange ideas and see what's worked and what has not worked in order to further grow the business. Also, we focus a lot on our distributors; they're our entrepreneurs. We have millions of distributors and they all have their own businesses, which is how Rich [DeVos] and Jay [Van Andel] started things years ago.
FM: Are there things we'd be surprised at as Americans about entrepreneurship in other countries?
MB: Absolutely. My original, lop-sided view of Russia and the Eastern Bloc was formed and shaped back in 1980 when we beat the Soviets in ice hockey. What we knew about the Iron Curtain and everything behind it was what we saw on television with the May Day parades across Red Square. One of the things I'm amazed at now is the working mentality of people in the East. These are people who, in our generation, did not grow up making their own decisions. Their decisions were made for them and their career path – really, their duty path — was given to them. These are extremely hard-working people, and they possess a loyalty — a family loyalty, but also a loyalty to their organization — that is really incredible. It's an extremely exciting place to work. Forget about all the infrastructure problems that are getting better by the day, there are huge business opportunities there if you have the right business model. They love products from the West. "Made in America" still has a real cachet to it.
FM: Students at Ferris have launched a campus chapter of the Collegiate Entrepreneurs' Organization. What would you say to those students or to Ferris students in general?
MB: I would just say, "Keep your eyes open and be curious. Try to look at the world from an objective, multi-sided viewpoint." There is always more than one side to a story. No matter what crisis I've been able to witness from both sides of the pond, be it 9/11 or economic crises, if you read USA Today or the International Herald Tribune or the Wall Street Journal, then pick up an article in the Frankfurter Allgemeine, you'll see completely different perspectives on the same story. I guarantee, if you go to China and read a story about the same event, you'll get yet another perspective. The more we are able to be open and curious about why these perspectives are the way they are, the more fun and enriching it can be. There's a huge opportunity out there for young people who keep an open mind and want to operate at an international level.