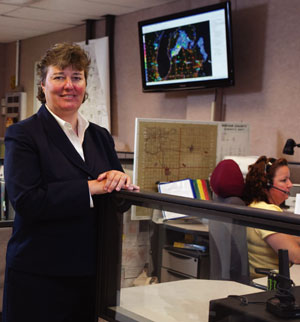 When Lansing Mayor Virg Bernero tapped Teresa Szymanski to be the city's chief of police, she became the first woman to lead Lansing's finest – but not the first Ferris graduate. This past March 13 she took over from Mark E. Alley (EHS'85), who left to become senior director of Risk Management and Public Affairs at Emergent BioSolutions.
"It started when I was little. My parents used to have some friends who came over to the house during deer hunting season," said Szymanski, whose office has a postcard-quality view of the state capitol. "They were undercover Detroit cops who had beards and long hair. I loved to listen to their stories." For someone growing up in the small northern-Michigan town of Ossineke that early shop talk proved formative.
Szymanski followed her older brother, Duane, to Ferris, then began her career as an officer in the small town of Douglas, Wyoming after graduating in 1984. "I was the only female officer in the whole county, but the guys – and they were guys – were very supportive." Szymanski said that experience taught her the importance of listening as a key policing skill.
After three years in Wyoming, Szymanski was ready for some new challenges and ready, too, to get back to her home state. After a call to a fellow Ferris grad who worked for the Lansing Police Department, Szymanski decided to apply to be a part of the Capital City's force and started with the department on June 15, 1987.
Over the next several years Szymanski was promoted to sergeant, worked patrol, transferred to internal affairs, promoted to lieutenant, ran a special operations drug team, promoted to captain and ultimately appointed chief.
"I've had a magnificent career," she said. "I started in uniform patrol, then my first special assignment was with Tri-County Metro Narcotics working undercover with state, local departments and federal departments."
Szymanski said one of her most rewarding positions with the LPD was being a community policing officer, although at first she resisted the job. "I didn't want to be a CPO and plant flowers and take kids to Cedar Point. In hindsight, it couldn't have been a better job for me. It goes back to talking to people and getting them engaged."
Almost lost in Szymanski's story of hard work, commitment and dedication is the fact that she is a woman in a field where leadership is still predominately male. The distinction isn't lost on those she serves, though. "I had some lady stop the car, get out, and ask if I wasn't the new chief. I said I was. She gave me a big hug and said it was great having a female chief of police."
With initiatives ranging from consolidating divisions to improving relations with the gay and lesbian community by assigning the city's first-ever liaison, Szymanski has already made a mark on the LPD and the city she serves.