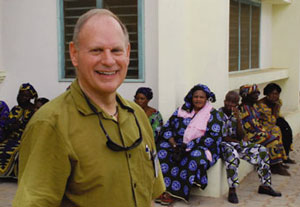 A message from Bill Martin carries with it a sense of adventure and the exotic which makes it stand out from more mundane e-mails:
"The M/V Africa Mercy is currently on station in the Port of Cotonou, Benin, West Africa, until Dec. 8, 2009, and then sails to Tenerife, Canary Islands, for six weeks of ship maintenance and inspections. My plans are to depart Cotonou via Air France on Dec. 9 and fly to my home on the Isle of Palms, S.C., for the holidays. I return to the ship in Tenerife on Jan. 17, 2010. We will sail to Lome, Togo, West Africa, for a 24-week Field Service beginning Feb. 10 and then to South Africa for five months of dry-dock to replace our four large generators."
The 499-foot M/V Africa Mercy is the world's largest charity hospital ship, which in the past 22 years has performed more than 32,500 surgeries, treated more than 212,000 people in village medical clinics and developed healthcare infrastructure in West Africa by working with local professionals to train others in primary care and surgical skills. Martin is the Africa Mercy's hospital director, a position he found himself in due to a combination of talent, commitment and envy.
A Busy Retirement
"A little over 12 years ago I retired and started doing work around the world," Martin says via satellite phone from Cotonou. "I had 22 high school or college exchange students who stayed in my home, and I decided I wanted to travel because I was envious of them." The path Martintraveled to first contract the travel bug and then become an influential figure in West African healthcare was a circuitous one—albeit one that prepared him well.
After graduating from Ferris with a degree in Business Administration in December 1969, Martin worked for U.S. Congressman Elford A. Cederberg, then-ranking minority member on the House Appropriations Committee. He then spent 18 months with the 101st Airborne Division in Vietnam. Martin returned to northern Michigan, becoming involved first with building a ski resort in West Branch, then with constructing rural health clinics, which he did for eight years before specializing in turning around struggling HMOs. After his retirement he was able to put his medical managerial skills to new uses.
"In 1999 I went to Liberia, West Africa, as a Lutheran missionary to run the largest operating hospital in the country, Phebe Hospital and School of Nursing. The medical director was an American-trained Liberian physician named Walter T. Gwenigale, M.D. I worked with him for four years at the hospital, and then I spent six months with the American Refugee Committee running refugee camps in Liberia just after the country's 14-year war," says Martin.
In the relative stability afforded by the end of the war, Liberia held an historic election in which voters chose the continent's first female head of state—Ellen Johnson Sirleaf. President Sirleafappointed Gwenigale as Liberia's Minister of Health and Social Welfare. Martin was in Baton Rouge working with the American Red Cross in the aftermath of hurricanes Katrina and Rita whenGwenigale called Martin and asked if he would help set up the new ministry.
"Two weeks later I was in Liberia. One of my responsibilities was to be the government's liaison to the organization Mercy Ships, which was in country providing medical care. I worked for three years as the senior advisor to the Minister of Health, which is how I got to know Mercy Ships," Martin says.
The Language of Healing
In support of its mission, the Africa Mercy has six operating rooms, an intensive care unit, CT unit, X-ray, physical therapy, post-operative care, and dental and vision programs and services. (It also has a school, day care center, library and even a Starbucks.) With a berth capacity of 484, a volunteer crew from more than 30 nations serves on board at any given time. The Africa Mercy specializes in providing care that is otherwise unavailable in the countries it visits. Some of the endemic problems the ship most often treats include cleft lip and palate, Berkus lymphoma, which causes large facial tumors, and cataracts.
"Cataracts in Africa are exacerbated by the bright sun, which makes them much bigger and harder than they are in the U.S.," explains Martin. "We use a procedure called 'modified tunnel' perfected by one of our doctors. They make a small incision in the side of the eye, use an older-style instrument that has a hook on it, pull out the cataract through the opening, replace it with an artificial lens and close the incision, all in about three-and-a-half minutes. An additional benefit is that this is something we can train local physicians to do." During the Africa Mercy's 10 months in Benin, doctors performed about 6,400 surgeries, with cataracts accounting for about 3,500 of those procedures.
Many of the other diseases requiring surgeries performed on the Africa Mercy are caused or exacerbated by poverty. A large number of children with a cleft lip or cleft palate suffer from malnutrition, because their maladies make it difficult for them to nurse. These children often have to be put on a feeding program before they are strong enough to undergo surgery. A large number of the patients requiring reconstructive surgery have suffered burns from large cooking pots that have tipped over or sleeping mats that have caught fire.
Challenging medical situations are further complicated by language barriers. "We go from English to French, French to Fon, from Fon to a northern language, from a northern language to a village language, and sometimes a second village language. We may use up to three translators to pass on the simplest of messages. You never ask a philosophical question because it's hard enough getting a yes or no answer," Martin says. "I asked one lady if she had ever been to Cotonou before, and she gave a three-minute reply. Through the translations she said she had never been here before, but 10 years before her sister had, and she had friends who had been close to the city. This is an oral society, so you answer all your questions in a very complete way, in a story."
Ministering Health
Near the end of its stay in Benin, the Africa Mercy's crew members were invited by Thomas Yayi Boni, the president of Benin who previously had toured the floating hospital, to dinner at the presidential compound to thank them for their 10 months of service. Martin's expertise in delivering medical care in developing countries puts him in contact with some of the most influential and powerful people on the continent, as well as some of the poorest.
In July 2009 Gwenigale invited Martin to attend Liberia's National Review Conference of the National Health Plan. He, along with Gwenigale, met with Liberian Vice President Joseph Nyumah Boakai, who discussed his recent official trip to China, as well an earlier trip Gwenigale and Martin took to China as guests of the Chinese Minister of Health.
"I visit the ministers of health in these west African countries to see what their needs are. Four weeks ago President Sirleaf was on a state visit to Togo. Since I did some work for her and the Minister of Health when I was there, I was able to have lunch with her. This is all very, very exciting stuff."
If this was the first decade of the 20th rather than the 21st century, Martin would have one of those steamer trunks plastered with shipping labels rather than simply a well-stamped passport to document the miles he has logged in pursuit of his humanitarian second career.
"Opportunities present themselves all the time. I would never have guessed 10 years ago what I'm doing now. I have a nice home on the Isle of Palms in Charleston, S.C., just 250 meters from the ocean. I don't get to go there very often. Since my retirement, every day has been more exciting than the day before."