Diplomat Pharmacy Transforms Former Flint GM Tech Center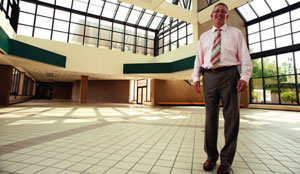 We're the only pharmacy that has a car wash on site. I'm not sure we're going to reactivate it-that's not on the top of our priority list," jokes Diplomat Specialty Pharmacy CEO Phil Hagerman (P'75) as he walks past where General Motors executives once had their Corvettes andEscalades detailed. Hagerman is giving a tour of the former Great Lakes Technology Center in Flint, next door to the site of the famous sit-down strike of 1936-37. Now, in another part of the vast building, workers are hanging drywall for executive offices and removing carpeting from what will become Diplomat's new distribution center. With the help of a $61.5 million Michigan Economic Growth Authority tax credit, Hagerman is moving his corporate offices from Swartz Creek to Flint and planning to add 1,000 jobs in the state's hardest-hit city in the next five years, and perhaps as many as 4,000 by 2028.
The building Hagerman is moving into is big, and so are his plans.
An Ideal Beginning
Diplomat Pharmacy was born in 1975 when Hagerman's father, Dale Hagerman, sold his stock as co-owner in the small Ideal Pharmacy chain, then turned around and bought Ideal's newest store in Flint. Inspiration for the new name came from its location in Diplomat Plaza. "We liked the concept of being diplomatic, which for us means taking care of patients," says Hagerman.
Patient care is getting increasingly complex, which has given rise to the whole field of specialty pharmacy that caters to the needs of chronically ill patients whose treatments require strict adherence to a complicated drug regimen.
"Specialty pharmacy is a complex algorithm of care rather than simply a pharmacist behind a counter who has little interaction after the customer leaves. For patients with multiple sclerosis, cancer or rheumatoid arthritis, there are a lot of moving parts that have to come together to make sure they get the care they need," explains Hagerman. "There are still probably 25 percent of people with MS who walk into a traditional pharmacy and get their medicine. But the higher level of service is for the patient who may not be highly compliant or who has a range of side effects. Those people require higher and more touch points." For Diplomat Pharmacy, those touch points include conducting a baseline depression screening for MS patients, and in situations where the patient is identified as being at risk, it also means helping case managers and others intervene.
Innovating to meet those needs earned Diplomat Specialty Pharmacy a place on Inc. magazine's 2009 list of the 500 fastest-growing, privately held companies in America. Before the new building tour, Hagerman illustrated the impact of rapid growth on the company and why it needs so much new space.
The building Diplomat is outgrowing is part of a suburban office complex that could at first be mistaken for apartments or condominiums. The distribution center consists of an area not much larger than a good-sized living room where chrome shelving units are crammed full of styrofoam packages of drugs ready for shipment to patients. Nearby, in what looks like a traditional retail pharmacy's behind-the-counter area, Hagerman showed off some of the patient-friendly packaging Diplomat has helped design. Powerful oncology medication has to be taken along with other drugs, including low-dose aspirin, each at irregular intervals, so each day's dosage is ready-packed in individual plastic bubbles in a package the size of a large paperback book, while HIV multiple drug "cocktail" therapy is packaged in individual plastic pouches that can easily be torn from a long strip either one dose at a time, or several days worth for a patient who has to be on the road.
"These are the kind of things a traditional pharmacy can't do," explains Hagerman. "On a busy day we are already shipping up to 1,000 prescriptions, which was our goal for year-end 2010."
A New Model for Progress
There are places in Diplomat Pharmacy's new headquarters where you can still see reminders of the original Fisher Body One plant, especially when you catch sight of steel roof trusses holding up whitewashed wooden ceiling planks bathed in afternoon light from rows of high manufacturing-era skylights.
Hagerman had been considering purchasing another office building adjacent to the company's former Swartz Creek site for about $1 million, which didn't include significant remodeling. Then he had a better idea.
"I thought, I'm not going to do that if you can buy the Silverdome for $550,000. So I called up a realtor and asked if GM was selling any properties around here. He said, 'As a matter of fact, they are.'"
Diplomat now owns two buildings of the Great Lakes Tech Center, which amount to 550,000 square feet. The company first purchased the 345,000-square-foot Building B for less than the adjacent office building would have cost, then purchased Building C when the investor who had bought it at auction had second thoughts. The space allows Diplomat to have a state-of-the-art distribution hub, compounding laboratory, software development and data center, and national patient call center. Hagerman also plans to develop an industry training/education center and an on-site day care center.
With Diplomat anchoring South Saginaw Street, the hope is that other businesses will move in-some of them into space leased from Diplomat, some to other available sites-to create a life sciences corridor that will help transform Flint the way the auto industry did starting more than a century ago with the revolution of assembly line production.
"Part-way through the purchase process I was talking to the Mayor of Flint, Dayne Walling. I thanked him for the commitment Flint is making," recalls Hagerman. "He wanted me to understand that Diplomat might be the biggest single project Flint has seen since the Tech Center went in. For us to make this kind of commitment is pretty powerful. And it goes both ways."
What Hagerman, the City of Flint and the State of Michigan all want to see in this most recent resurrection is a synergy between public and private investment that will spark new investment. Several bars across the street are being razed and others have been purchased by investors looking to the future. Diplomat is working with a local group on opportunities to develop an abandoned 11-acre site north of its new facility.
Of the 43 health care companies in the Inc. 2009 listing, Diplomat ranked first in total revenue and sales growth, with a three-year growth rate of 917 percent from 2006 to 2009, pointing to projected 2010 revenues of $600 million. Also on the increase is the co-pay assistance the company helps to secure for its patients. In 2009, Diplomat's staff obtained a company record $12.1 million in funding for more than 6,600 patients, up from $9.2 million for more than 4,000 patients in 2008. It's the sixth largest specialty pharmacy in the country behind such "big box" providers as Walgreen and CVS Caremark, and is the largest pharmacy whose main focus is specialty care.
The company is expanding at a time when Michigan is beginning to see some improvement in the unemployment rate, as well as some hopeful numbers in terms of state revenue. Does Hagerman have the right medicine to help in the recovery not just of individual patients, but a whole city? As the first Diplomat employees began settling in this past summer, it was hard not to believe that.
"Flint has to diversify. And one of the major areas they're looking at is health care," says Hagerman. "It's sad to see what's happened to GM, but bringing this facility back into play and being able to hire 1,000 people is exciting. We're turning these challenges into benefits."
More information about Diplomat Specialty Pharmacy and its role in the revitalization of Flint is available at www.diplomatpharmacy.com.