Many of the centennial histories of institutions begin with a description of the struggle between the founders of the school and the state lawmakers and other politicians. Sites for the campuses have to be chosen and bargained for to suit the political element with the most "clout." Buildings need to be erected, curricular programs planned, students attracted, and the whole concept of the school set in motion.
There is conflict because the non-educators among the politicians and the non-politicians among the educators do not speak the same language.
There is conflict because the non-educators among the politicians and the non-politicians among the educators do not speak the same language.
If competition builds character in people, it should also build character in institutions. By the time the institution has survived two or three decades of competition between the educators and the politicians, it has developed its own character.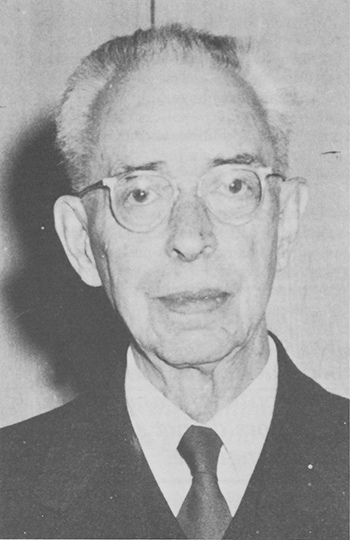 Ferris Institute, on the other hand, had gone through 66 years of its life without serious involvement in the battles between nonpolitical educators and non-educational politicians.
The trauma of the fire and some personal problems had aggravated President Brophy's Parkinson's disease and it became more difficult for him to administer the school. At the beginning of 1952, Brophy resigned and Karl Merrill was named acting president. A search began for a new president.
Each of the state universities and colleges was asked to suggest a likely candidate or two, and the Institute claimed to have more than 60 possibilities. Wayne University's (it was not yet a state institution) prospect for the job was Victor F. Spathelf, its dean of students.
In Spathelf's words, "You are talking to a man who never wanted to be a college president."
Judge Starr asked Spathelf to come to a board meeting for an interview and then persisted until he got Spathelf to accept the presidency.
In the meantime, the Legislature decided that the Ferris Institute ought to have about 1,200 students, and it allocated money enough for a combination administration building and library, and for a classroom building, hooking the two structures to either end of the Alumni Building. The Legislature also determined that the collegiate offerings of the school be under the purview of the state Department of Public Instruction, and for several years the state Superintendent of Public Instruction was an ex-officio member of the Board of Control The high school department, which in those days was one of the major departments of the school, was accredited by the University of Michigan. The campus encompassed about 18 acres.
The legislators assumed that this was the total scope of Ferris Institute -- a vocational school where students could get bachelor's degrees in pharmacy and commerce, certificates in vocational skills programs, and where those older than average or married could get high school diplomas if they hadn't earned one at the traditional age.