The growth in enrollment and academic curriculums in the 60's helped bring a comprehensive program of student activities to the campus. Accreditation helped, too.
In 1961 a sorority on campus became a chapter of Delta Zeta, a member of the national Panhellenic Council. In 1962, Phi Sigma Chi, the oldest of the campus fraternities, chartered a chapter of Sigma Phi Epsilon, thus becoming the first Ferris Greek organization to join the National Interfraternity Conference. Within the year several other groups joined "national" organizations.
During the time of student unrest in the 60's, the social fraternities and sororities proved a sort of leveling influence. They neither went to the right or to the left; they maintained a dress code, and they provided many constructive activities for the participation of all the students.
There also came to the campus in the 1960's an influx of veterans from the Vietnam war. Of legal drinking age, they were generally more mature than the student just out of high school. At one time the veteran enrollment at Ferris made up for as much as 10 percent of the student body.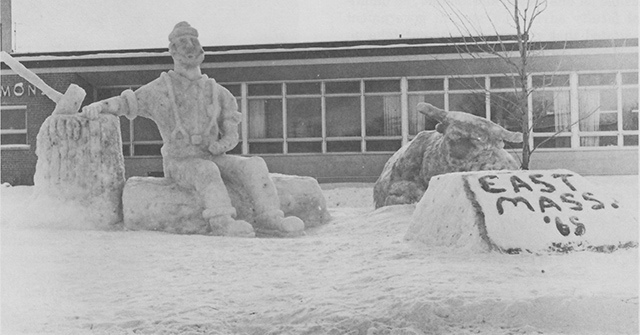 Winter Carnival has been sponsored by different groups over the years, but has maintained its popularity. This photo of Paul Bunyan, with Babe, the Blue Ox, was taken in front of Masselink Commons in 1965.