The June, 1885, issue of Western Penman carried an article entitled "Business Education," by W.N. Ferris. In it he said that the new education is commanding the attention of teachers and patrons alike and that teachers have come to realize that the school is for the child, not the child for the school.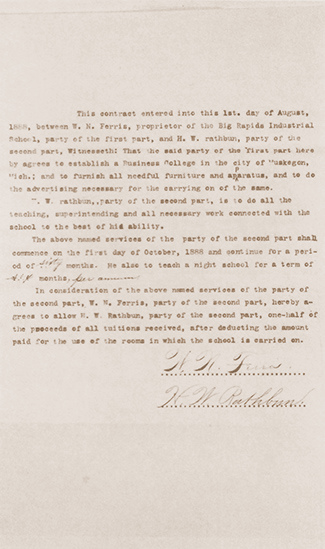 W.N. Ferris and H.W. Rathbun signed this contract Aug. 1, 1888, to open a business college in the city of Muskegon. Its first name was the Ferris Business College.
The theme of the article was that business colleges were failing to present courses of study worthy of a businessman's serious consideration.
Either he forgot what he had written about business colleges or he felt he could offer what he considered true business education, because on Aug. 1, 1888, Ferris drew up a contract with H.W. Rathbun to establish a business college in the city of Muskegon. Rathbun was to do all the teaching, superintending, and all necessary work connected with the school to the best of his ability for a term of 60 months. Rathbun also was to teach a night school for a term of six months each year. He was to receive half of the proceeds of the tuition paid after deducting the rent paid for rooms used by the school. Ferris had supplied all the furniture and apparatus and was to provide all the necessary advertising for carrying on the business college.
Had W.N. Ferris not been so intent on establishing the business college, he might not have been so quick to put Rathbun in charge of so major an undertaking. Certainly he would not have given him a five-year contract. Rathbun was a miserable failure in his attempt to run the Muskegon Business College. Either he lacked the charm of Helen Gillespie Ferris or he lacked what W.N. Ferris termed "energy."
On June 17, 1891, Henry Rathbun, giving his address as the City of New York, sold all the furniture, fixtures and appliances of the Muskegon Business College to Edward C. Bisson of the City of Muskegon. Bisson agreed to pay Rathbun $1,000 in $50 increments for furniture Rathbun didn't own.
Ferris never recovered some of the money due him from this venture, and for a while his correspondence to and about Rathbun was caustic.
Although he considered Bisson naive for buying the school from someone who didn't own it, Ferris became very friendly with Bisson and offered him many suggestions on how to make the school better. Bisson later enrolled at Ferris.
Bisson made the school a success and continued to run it for 35 years. In the 1970's, Muskegon Business College's catalog gives credit to former Senator Woodbridge N. Ferris for founding the school, which the catalog claims was founded in 1885 and was first known as the Ferris Business College.