It is true to say that the success of any event is the result of a careful and thorough project plan. Creating this plan takes time and effort which can sometimes take well over a year to construct. Remember, communication is a key component. Take the time to invest in your partners (vendors, volunteers, staff, etc. ) and establish a relationship that will guarantee a successful and memorable event. Key components that will require critical thought and planning may include:
Food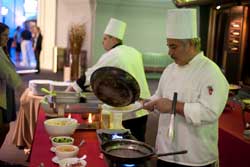 There are a lot of considerations when choosing your menu for an event. The first thing to take into consideration is the budget. Know how much you have to spend before you meet with the caterer. The best value for your dollar will be from campus catering.
The catering department is familiar with all the buildings and has a very versatile menu. If you are unsure of food selections, the catering manager will make recommendations for you based on your budget and knowledge of food preferences of your guests. Campus Catering will also provide linens and centerpieces if requested. Make sure to verify costs that may be associated with their additional services.
If your event is held off campus you will need to schedule a time to meet with the caterer and plan the menu. If the caterer provides samples or tasting, take advantage of those services. If the caterer does not offer those services then make sure you verify references or recommendations from other professionals/clients.
There are several options when planning a meal. You can choose a plated meal (typically the least expensive) or a plated dual entrée which is more expensive but eliminates the risk of your guest not liking their preselected meal. Since serving a plated meal is easier for the wait staff, it gives the event planner more control over time in the evenings' timeline.
Other meal options include buffets and strolling receptions. Both options are typically more expensive than plated meals but provide your guests with several entrée choices. Buffets and strolling receptions provide opportunities for guests to move around and talk with other people that may not be seated at their table. However, these types of meal options are more time consuming. So make sure the additional time is built into your timeline.
Hors d' oeuvres are perfect for a small group or when there is no formal program. However the cost per individual piece can add up quickly. If dinner is to follow a cocktail reception then serve six to eight hors d' oeuvres per person. If the hors d' oeuvres are dinner then serve fifteen to twenty pieces per person and they should be a mixture of "heavy" hot and cold hors d' oeuvres.
If budget is a concern, host an event at off meal hours. It is more budget friendly to serve cookies or cupcakes and punch than a full meal.
When selecting your entrée choice, give special consideration to dietary issues of your guests. Make sure that a vegetarian option is available and take into account religious beliefs. For example, if your event is on a Friday during Lent make sure that fish is on the menu. And also, in some cultures it is offensive to serve pork. Take caution when considering the needs of your guests but do not allow a few to dictate the meal choice for others. To avoid these types of issues always state on the invitation – "Any person with a disability or food allergy needing special accommodations should call XXX-XXX-XXXX at least 7 days in advance of the event."
After you have selected your meal, you will receive a Banquet Event Order (BEO). The BEO will list the menu with special directions and the time of service. You will also have to give a guaranteed number of expected guests. This number will dictate how the caterer charges for the meal. It is safer to start with a lower number and increase the number as your guest list increases than to start with a large number and not meet expectations. Remember, most caterers will ask for a confirmation on the guaranteed number 72 hours before the event. Make sure that you meet the deadline and guarantee the correct number of meals.
Alcohol & Beverages
Beverages are often a simple addition to any catering contract. Whether you are hosting a dinner or small networking reception it is always necessary to offer water to your guests. You may order pitchers of water or if your guests will be strolling, bottled water may be a preference. To keep costs to a minimum it is typically more economical to order by the gallon (coffee, ice tea, punch, lemonade, etc.).
Some catering contracts include the cost of a beverage with the meal. If you want to offer soda to your guests and are hosting an event on campus, please remember that the University is under contract with Pepsi. Any competitor beverage is prohibited.
The purchase of alcoholic beverages with University funds (both general and non general funds) is generally prohibited. However, there are times when the University allows alcohol at University functions and on University property. To determine if your event meets the requirements to have alcohol at your event refer to the Business and Special Expense Policy.
In the event that your function will involve alcoholic beverages you must submit a Request for Alcohol Beverages form. This form must be submitted at least ten business days for the event and must be signed by the department's Vice President and President. Once the form is approved, it should accompany the receipt for the purchase of the alcohol.
Never serve alcohol without serving some sort of food. If you are planning on having a bar at your event, plan on one bartender for every 75 to 100 guests. If you are serving wine, a bottle of wine produces 5 to 6 glasses. Allow for seating for a third of your guests during a cocktail reception.
Printing
Visual communication is often overlooked at events. Once your theme has been developed then all your printed material should follow suit. Below is a list of printed material used at events and samples.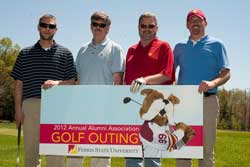 Producing your own print material can be difficult. It is always recommended that all text is proofed before being sent to print. If the event is formal, you may need to contact a vendor and pay for design and layout services. If the event is being used to advance the University or includes invitations to donors or VIP's, contact University Advancement and Marketing. In addition, all print materials must meet the University's Graphic Standards. Using the approved University logo on all print material is highly recommended.
When preparing print material make sure that you take into consideration the time it takes to actually print the material. Many departments on campus have time stipulations that must be accounted for in a timeline. For example, it may take a week to receive quotes back from a vendor and then two to three days before you see a proof. After a proof has been approved, it may take 10 business days to be printed. If the piece needs to be mailed then it may take 2 to 3 business days to spray the labels and run the postage. This total process can add 4 to 6 weeks on to your timeline.
Licensing and Other Requirements
Many programs or events will require special permits or licenses. Take the time to research the permits and license agreements and fill-out all paperwork and submit in a timely fashion. Road closures and entertainment with flammable objects are an example of a few issues that warrant a special permit.
Will you be conducting a raffle at your event? If so, then you must have a Michigan Raffle License. Refer to this State of Michigan website for more information and the forms needed to complete the process.
If you are hiring a speaker for your event or bringing in outside entertainment then you will need to contact the Purchasing Department immediately. The staff in the Purchasing Department will help you determine what forms you need to fill out before you secure the talent or hire out services. Examples of such forms are the Independent Contractor Short Form Agreement and the Standard Service Provider Agreement (long form). Typically the Short Form is used for independent contractors that are providing speaking, interpretations or entertainment under $5,000. The Long Form is for most other services including photographic services (Not the University Photographer), security services or professional service agreements. And remember, not everyone is authorized to sign contracts.
As an event planner, you must also be aware of the insurance requirements that vendors must supply. If you are planning an event on campus where your guests will be riding a mechanical bull, taking flight in a jet-propelled wind tunnel or bouncing in a bounce house then you should contact the Manager of Risk Management to verify the vendor has met the University's standards of coverage requirements.
Make sure you know the legal ramifications of conducting these events. If you ever have a question regarding a potential problem with licenses or permits, contact the office of General Counsel and Legal Services.
Communicating with Staff and Volunteers
A great event is not possible without an engaged team of individuals to aide in the duties and responsibilities of event logistics. Once you have constructed your event team (including volunteers), make sure that each person knows their responsibility prior to the event. Typically a week before the event is to take place, provide your staff and volunteers with a timeline /itinerary (see Sample Itinerary). Each individual should have ample time to ask questions before the event begins and feel comfortable in their roll. It is easier to establish expectations prior to the event then the day of the event unless you schedule a walk-through of the event before guests arrive.
It is also important to give your staff or volunteers key information that a guest may ask, such as where the bathroom is located and what time the program will begin. For questions they cannot answer, staff must know who the contact person is at the event and where they will be located. Do not overload your volunteers with information as they are there typically to enjoy the event as well.
Make sure that you give volunteers unscheduled time to enjoy the event or program and eat. And always thank volunteers in a personal note after the conclusion of the event. Your goal is for your volunteers to offer their assistance at your next event.
Always Be Prepared for the Unexpected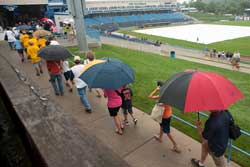 When selecting venues, choosing an outdoor space is always appealing. The cost for décor is reduced as nature serves a beautiful backdrop, but the problems that can and will arise can be unruly. It is always better to be prepared for the elements than to be caught in an uncomfortable situation and forced to make decisions quickly that may not be well thought out.
If your budget allows, then rent a tent! A tent can serve two purposes: shelter from the rain or a canopy to block the sun. When placing a tent, consider the demographics of the land. Make sure the surface is flat but on higher ground to avoid puddles of rain water. Also make sure that you can stake into the ground or be prepared to rent weights to secure the tent (which is often the case on pavement). If you are fortunate to avoid poor weather conditions, your guests will still appreciate having the tent and serving the food in a shaded, covered area.
If you are holding your gathering in conjunction with an outdoor event such as a baseball game or theme park, make sure your guests know the cancellation policy before they purchase tickets. Theme parks and sporting venues are accustomed to rain-outs and thus have policies in place to protect themselves and their customers. These policies should be clearly stated on your invitation or website.
Occasionally an event will be canceled. Don't panic – refer to your contact list and begin making calls. Call the venue and cancel your space and all catering. Contact those that have registered for the event immediately. Communicate to your registrants how they will be compensated and if or when the event will be rescheduled. If there is a possibility that some guests may still show-up to the event, make sure there is signage at the location stating the event was canceled and a telephone number or email address for questions or comments. If possible, have a member of the team wait at the location and greet the guests that did not get the message.