If you have done all your pre-planning including proper communication between venue, staff, vendors and guests, the day of the event should run smoothly. Make sure you begin your day by properly fueling your body. As the day unfolds it is typical to miss meals as you may be working through those times and packing snacks will help curb your appetite. And most importantly make sure you have comfortable shoes to give you support for the entire day.
The day of your event should be spelled out in your timeline/itinerary that you sent to staff and volunteers before the event. Follow your itinerary and stay on schedule or ahead of schedule. Give yourself a buffer to handle an unforeseen issue and make sure all your volunteers clearly understand their role.
Sample of activities include
Introduce yourself to operations staff
Establish a "work room" for the day's activities
Position all signage (sponsor banners placed according to agreement)
Set table décor (centerpieces, programs, give-aways, table numbers )
Set stage décor (positioning of tables, podium, back-drops, water on lectern for speakers, flowers, etc.)
Set coat check
Set registration table
Test all lighting and AV
Hold a program rehearsal if necessary (greet presenters and give them access to staging)
Be sure all VIP's are in place and have scripts
Confirm food and beverages have been set-up and are ready for operation
Confirm trash and recycling bins have been placed throughout the site (if applicable)
Registration Table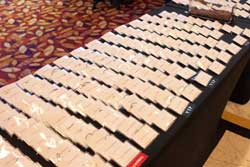 The registration table should be set and ready to welcome guests. Name badges should be alphabetized and there should be ample blank tags for unexpected guests. If collecting money, have a beginning bank to make change and have a small waste paper bin near the table for trash. It is appropriate to set a coat check before arriving at the registration table so guests may discard their coats before picking up their name tags. Volunteers should be wearing staff name badges and prepped to answer standard guest questions such as, "where is the bathroom?" and "what time does the program begin?"
Event Kit
Many things may occur the day of the event and you will find it more convenient if you have an event bag packed with items that may be typically needed during set-up or in case of an emergency. Some of the items typically included in an event kit are: scissors, tape, safety pins, paper-clips, zip ties, band-aids, sun block, markers, pens, measuring tape, duct tape, Velcro, string, Bulldog lapel pins, etc. After you have finished a few events, you will have a better understanding of items you may need while on location.
During the Event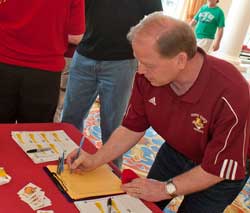 Once the event is in full swing, the primary focus is to make sure the event stays on time. It is important to stay in an area where you are readily accessible to VIP's in the program and your staff/volunteers that may have questions. If a problem arises it is best to stay calm and not draw attention to the fact there is a problem. Remember, most guests do not have a blueprint of the event and will most likely not have any idea that a problem presented itself if no one draws attention to the fact.
In order to ensure the event is running smoothly:
Note "no-shows" by saving the unclaimed name badges.
Note "walk-ins" for tabulation.
Assign a staff member to greet and assist any guest who may have a physical disability (if applicable).
Confirm the caterers are performing to your standards and people are being served in a timely manner.
Confirm the banquet and alcohol permit (if applicable) are displayed and easily seen.
Make notes of items that may come up to change in the future or note in a debrief.
Monitor lines and make sure the flow of the room is adequate.
Briefly check on volunteers to make sure there are no problems (relieve volunteers if necessary with new volunteers when their shifts are completed).
It is important to note that during the event you should be as inconspicuous as possible. It is your job to "work" the event and not necessarily enjoy the perks of the event. When mingling, engage in easily-ended conversations. And always wear clothing that is appropriate for the event but "work ready."