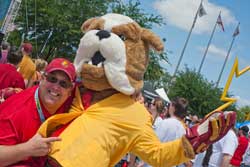 Whether you are planning a simple meeting or a large gala for hundreds, the first step is to make sure you answer some basic questions before you begin organizing your event. Schedule a meeting with the person(s) in charge of the event and ask some basic questions. (Filling out the Event Worksheet will help to keep you on track.)
What type of event will you hold? What are your goals?
Who is your audience?
When will you hold the event?
Where will the event be held?
What is the BUDGET?
What resources do you have at your disposal?
Understand Your Goal(s)
In order to prepare a successful event you must know what you are trying to accomplish. Clearly identifying your purpose will be invaluable as you work through the planning process – is this a fundraiser, reunion, friend-raiser, networking opportunity, celebration, dedication, or other? Establishing your goal will guide your planning process and help to avoid unintended growth or expansion of an event.
Consider Your Audience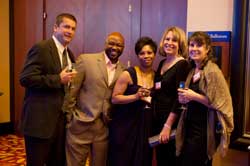 Identifying your goal will help establish your guest list. In order for the event to be successful, the right people must be in the room. Your guest list will also help you to determine your venue, the ambiance/environment you will set and the promotional design of the event. Also, it is important to be realistic about your anticipated attendance. More bodies may increase revenue but they also increase cost. And you may be excited about the event but not everyone else will feel the same way. Historically we receive a 2 -5 % response rate based on the number of invitations that are distributed. Factors to consider when hoping for a large turn-out include the cost of the event, the location, date and additional expenses the guests may incur such as lodging for the guest.
If you are planning an event and need external data such as alumni, donor or friends of the University please email the Alumni Office at [email protected] (all requests require up to a two week notice). If you are searching for internal data including addresses of facility or administration please contact the Human Resources Department.
Timing is Everything
When choosing your date and time make sure you consider what will work best for your audience. It is important to check all campus calendars or community calendars to ensure you are not in competition with another event on campus or in the area that has already been scheduled. If the President is expected to attend then your first call should be to the Office of the President for his availability. This is also true for any other VIP on the invitation list or in the program that will need to speak or have a presence at the event (Vice President or Deans). When choosing a date or time also consider holidays and/or academic schedules and plan accordingly to seasonal attributes.
Location, Location, Location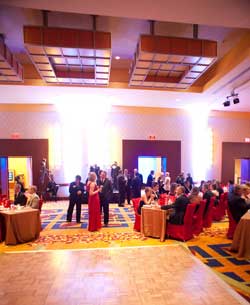 Choosing the right location is critical for producing a successful event. For example, an event with 50 people sitting in a room which is set for 200 can disappoint not only the guests but also embarrass the speakers of the program. Below is an outline of some key components to look for when choosing a venue. It is always recommended that you have a site visit before you announce your location. You may find it convenient to refer to the contact list for help scheduling buildings or rooms on campus.
Room set-up:
What is the maximum amount of people that it seats? Do you need to rent tables or chairs? (If on campus fill out a physical plant work order/ request form) Are the tables round or square? How many people will fill a table? Is there a location for registration? Will you need a coat check? Is there a stage? What is the sight-line for the stage or to see the speaker? Are there restrooms in close proximity? Is the room handicap accessible?
Audio Visual:
What do they provide for A/V? Is there a charge? If they have A/V in house who will run it? Is there a charge for their staff to run it? Is the layout of the room conducive to A/V?
Parking:
Is there ample parking? Will parking passes be required (If so and on campus contact Public Safety)? If the event is at night is the parking lot well lit? Will the guests need a map or signage to help them identify where to park? Are there enough handicap parking spots? How far away is the parking? Is it too far for your guests to walk?
Décor:
Is the venue clean? Is the décor suitable to your needs? Do they provide center pieces or linens or do you have to bring your own?
Catering:
Do they furnish the food? Or can you bring in outside caterers? Do they allow a food sampling before you set the menu? Do their prices fit into your budget? Are they willing to negotiate on prices?
Budget and Resources
A budget is an event planner's fundamental tool to predict with reasonable accuracy whether the event will result in a profit, a loss or will break-even. A budget can also be used as a pricing tool to help establish ticket prices or sponsorship levels. It is important to know what is the budget amount, whose fund/FOAP the budget will come from and if revenue is collected from the event, where that money will be deposited. There are many budgeting tools available on-line to help you organize and track your revenues and expenses or you can follow the Event Worksheet for a guide.
In addition, if an event has a collected ticketed price, you must specify what amount is to be used as service and what amount will be gift. This information must be collected and submitted to the Gift Processor in UA&M. To help you record the gift, please use the Gift In-Kind form.
It is also cost effective to know what resources you have at your disposal. For example, there is rarely a fee to book a room on campus or to rent A/V equipment from Media Services. Students make great volunteers to help with registration or to give campus tours. Physical plant will deliver and pick-up tables and chairs for no additional cost (during standard work hours) and the University is home to over 300 registered student organizations with exceptional talent and can provide great entertainment.