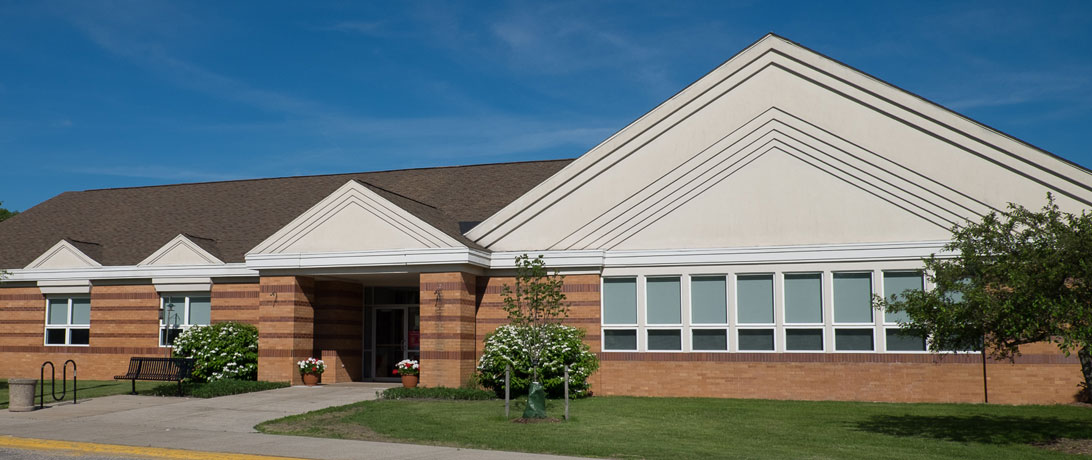 The West Campus Community Center (WCCC) is located on the west side of campus and serves the on-campus apartment communities. The WCCC also has space available for conferences, meetings, receptions and other University functions.
Contact Us at:

1414 Family Drive
Big Rapids, MI 49307
Phone: (231) 591-3781
Email: [email protected] edu
We are currently not accepting facility reservations.
Facility Setup

There are many room set-ups available for the WCCC. The following are diagrams of the different set-ups available:

Facility Equipment

The WCCC has the following items available for use during reserved functions:

Floor Podium:

Without Microphone
Table Podium

Tables:
Presentation Media:

LCD Projector - Note: Off campus Clients will be charged for the LCD.
Overhead Projector
Slide Projector
TV/VCR
Projection Screen

Miscellaneous:

Coat Rack
Easel
White board (portable)
Extension cords
Coffee pot – Note: Coffee supplies are not included i.e. Filters, cups, sugar, coffee, etc.

*Please Note: Responsible for bringing laptop and any equipment connections. Equipment is limited and may be in use for the date and time requested. Confirm required equipment

Rates and Policies

Click the link below to find the specific rates for the WCCC, including room use, equipment use and any other rates/fees associated with the use of the WCCC.

---

The following is a list of the policies regarding the use of the WCCC:

There is a $15.00 / hour fee to open or close the facility outside of posted hours, subject to staff availability.
Setup and take down fees may be assessed for certain setups.
A clean up fee may be assessed for an excessive mess in the facility or with equipment rental/usage. A minimum fee of $25.00 or actual cost for clean-up.
Any damage to the facility/equipment will be charged to the sponsoring organization or person at a minimum charge of $25.00 or actual cost.
Reservation payment must be made to the West Campus Community Center 24 hours prior to the event or the event may be cancelled. Fees may be paid via a University budget transfer or check. All checks should be made out to Ferris State University (Housing).
Meals and refreshments must be setup by individual, group or by contacting FSU Catering at Rankin Center.
Failure to cancel a reservation within 24 hours notice of scheduled event will result in a $25.00 cancellation fee.
Room rates by the full hour; partial hour use equates to next full hour charge. Rates assume regular room set up. Additional charges may incur for special set ups or other unique situations/needs.
Responsible for bringing own laptop and connecting equipment. Equipment is limited and may be in use for the date and time requested. Confirm required equipment.

FAQ

Do you have a projector?

Yes, it is a LCD projector and a charge applies for usage for off campus customers.

Do you have a podium?

Yes - no charge.

Do you have a kitchen with supplies?

Yes we have a kitchen with a sink, stove, standard refrigerator, microwave, coffee pot and trash cans. However, it is the customers responsibility to bring all equipment to utilize in the kitchen we do not supply kitchen items.

Do I have to use FSU catering in order to have food at my event?

No you do not. However, if you are serving food to the public where money is collected via donation or a set fee you must contact the Mecosta County Health Department and receive a temporary food license.

Are we responsible for clean up?

Yes the room needs to be returned to the WCCC standard.
Hours of Operation
Fall/Spring Hours
Summer Hours

Monday-Thursday: 7:30 AM - 6:00 PM

Friday: 7:30 AM - 5:00 PM

Saturday: 9:00 AM - 12:00 PM

Sunday: CLOSED

Monday & Wednesday: 9:00 AM - 12:00 PM

Saturday: 9:00 AM - 1:00 PM

Tuesday, Thursday, Friday, & Sunday: CLOSED
*Note - Hours of operation may vary during semester breaks, holidays.