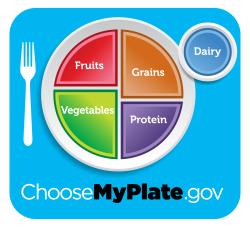 Ferris State University Dining Services staff strives to provide a wide variety of foods while accommodating to meet each student's needs. Nutri-Choice is a program designed to meet the following goals:
Educate students on principles involved in developing healthy eating habits.
Assist customers in maintaining a healthy weight.
Encourage physical activity and limit alcohol consumption.
Promote consumption of food and beverage choices that meet the recommendations of the American Heart Association and American Institute for Cancer Research. These include choosing an overall balanced diet from all major food groups that is rich in fruits, vegetables and grains. Also, selecting foods that are low in fat and sodium, including fat-free and low-fat dairy products, legumes, poultry, lean meats and at least two servings of fish per week.
It is important to take the time and honestly evaluate our eating habits. Scientific research continually supports the fact that we can live a longer and healthier life by; exercising, maintaining a healthy weight, consuming a variety of foods and reducing our choices of fried and high-fat foods and decreasing our intake of excess salt and sugar.
For your educational purposes, we have provided helpful links to kick-start these healthy choices!
¨ www.celiac.org—Celiac Disease and gluten free diet information
¨ www.eatright.org—National Academy of Nutrition and Dietetics
¨ www.foodallergy.org—Food Allergy research and education
¨ www.vrg.org—Vegetarian Resource Group
¨ www.ncaa.org/sport-science-institute/nutrition-sleep-and-performance— Collegiate Sports Nutrition
¨ www.livestrong.com—Site for food, fitness and health
¨ www.myfitnesspal.com—Free online calorie counter
¨ Choosemyplate.gov—USDA Nutrition education