The University Archives has thousands of visual images. Most of the images are the official photos of the university taken by the University photographer. Other photos are donated as part of the collection.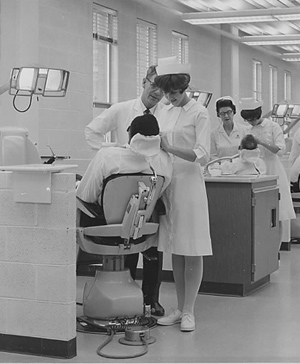 Photo of dental hygiene students ca. 1964

Some photographs are part of larger collections that have finding aids. To find these photographs do a quick search of the finding aids search box on this page or browse them by title.
Below is a partial listing of subjects of the campus photographer's files. These photos primarily cover the 1960s-1980s.
Digital copies of photos may be provided to patrons upon request. Because of copyright restrictions, some photographs may not be available.
Remember, this is only a partial list. Many photos are not cataloged. If you have a specific photo request, please contact archives staff.
Photograph Subjects, Alphabetical