Searching FAQ
Looking for materials in an archives and special collections can be a very rewarding experience but it is different then finding library materials.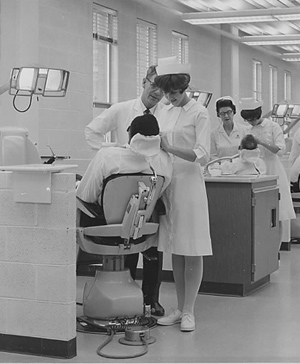 Dental hygiene students ca. 1964

The first step in searching for materials on your topic is to use the library online catalog . The online catalog has brief descriptions of collections and contains records for many published materials.
Another source for finding information is to look through finding aids. You can browse finding aids by title.
A third way to find information is to browse our vertical files. These are files of individual items related to the topic donated separately.
Lists of print photographs are available. Please contact archives for information on digital photographs.
Resource guides on on particular topics such as Ferris theses or campus buildings are available. These resources are located on the subject guides page.
The University Archives has digitized limited parts of some collections. When available, there will be a link on the box/folder list to the location for the digitized materials.
For more information about locating visual images such as photographs please click here.
The University Archives has many more resources which may not be cataloged or make a specific reference to your topic. It is always best to consult archival staff who may be able to suggest a different approach to finding the information you need.