These instructions are for Team Captains only.
Get started by initiating your fundraiser access to the MobileCause crowdfund application.
Visit the One Day for DAWGS crowdfund and select the Become a Fundraiser button to initiate access as a fundraiser within the MobileCause application. Each step of your initiation will be confirmed with an email to the address that you provided in the form. If you did not receive an email, please check your junk folder or contact our office,

[email protected]

or (231) 591-2365, for assistance.


After you submit your form, you will be prompted to set-up your personal fundraising page and join a team. As a Team Captain, you may just logout using the link at the bottom of the page. After your application for fundraising is reviewed, a crowdfund template will be created for your cause and you will be pre-designated as the Team Captain. The team campaign page will become your personal fundraising page.



Just logout from this confirmation page. You will be notified by email when your team campaign page template is ready for you to login and personalize.

You will also receive an email after submitting your form that provides you with all the information needed for accessing and sharing your team campaign page.

Keep this email as a convenient reference.

There is no need for further action until you receive an email notification indicating that your team campaign page is ready for personalizing.

At the time that your team campaign page has been created by the administrator (after application review), you will receive an email directing you to your official Team Campaign page where you will have been pre-assigned as the Team Captain.



Click the "here" link in your email notification to access and personalize your new team campaign page.

You may also access your page by visiting the One Day for DAWGS crowdfund and selecting your cause under the Campaigns tab.
The Power of Personalization
Peer-to-Peer Fundraising is most effective when you make your fundraising efforts personal. The most successful Fundraisers have the following in common: their team members have (1) customized and personalized their pages, and (2) they have posted and shared consistent updates within their network of friends and family.
5 Tips to Personalizing your Team Campaign page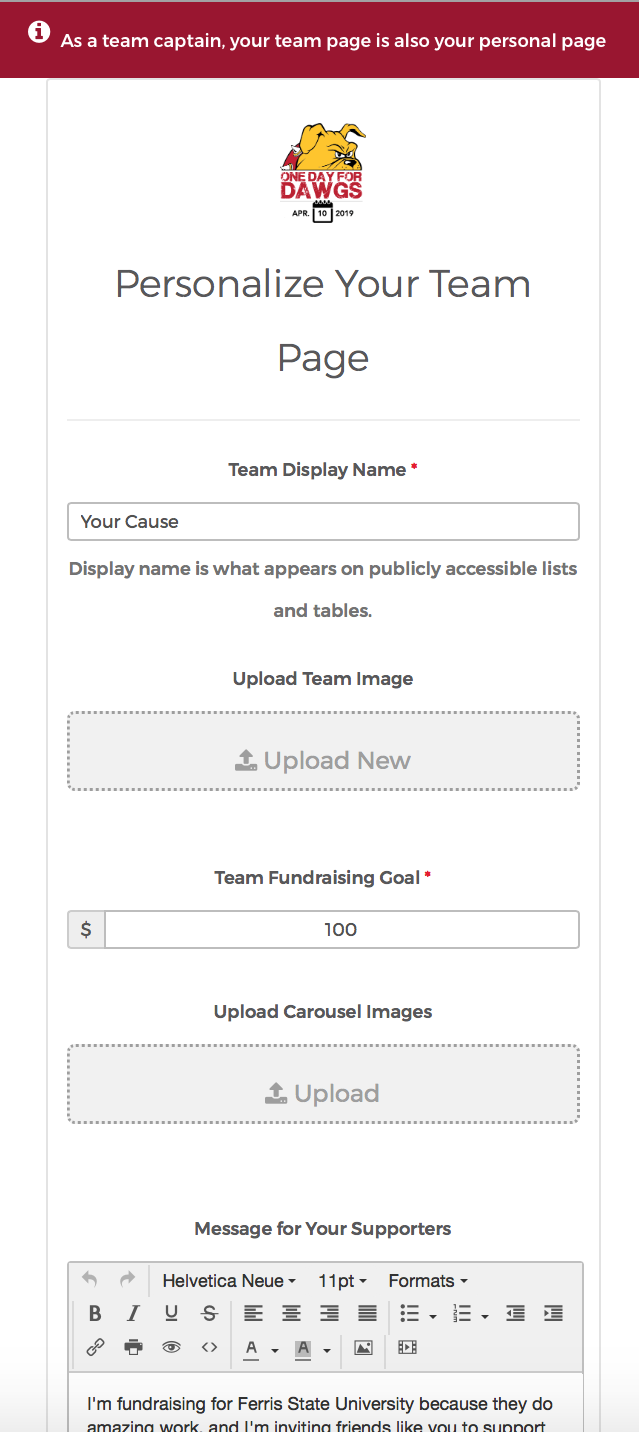 Edit Your Team Display Name: Change the name to what you would like to have displayed to catch your supporter's attention.


Upload Your Team Image: This will be image representing your cause when seen in the list of campaigns on the One Day for DAWGS campaign page.


Edit and Update your Goal! Change your fundraising goal amount to the one YOU want to achieve for your cause!


Upload Carousel Images: Upload a photo of yourself, photos that pertain to the organization, or photos of you and your "team" to create an instant personal connection from you to the cause you are fundraising for!


Write a compelling welcome message! Your welcome message is one of the most important parts of personalizing your Team Campaign page! R

ecord a short, personal video straight from your heart as to why you are involved! If you can gather the courage to hop in front of your smartphone and press record… then do it! Trust us, people want to hear from YOU. Provide information about your vision and how a supporter's gift will make an impact for your cause.
3 Quick Tips To Writing Your Welcome Message!
Share why YOU care. Why are you involved with this cause? Is there a connection to your personal story or testimony? Simply sharing from the heart your genuine connection to the cause, department or Ferris is an awesome way to appeal to others and invite them into experiencing the joy of supporting the AMAZING work you are accomplishing!

Share a compelling fact or statistic about your cause or Ferris. For example, were over 1200 students in your cause served within the last year?! Find a compelling statistic to share to add credibility.


Link to a compelling testimony or success story from an individual your cause or Ferris has served. There is nothing quite so powerful as seeing the story of someone whose life has been transformed!