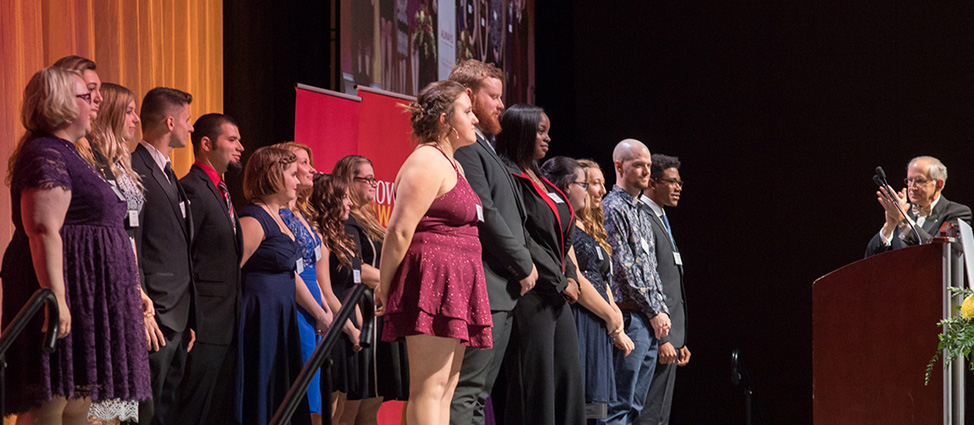 President David Eisler recognizes student recipients of the Ferris Foundation Opportunity Scholarship.
Student Scholarships
The Foundation for Excellence Fund of the Ferris Foundation is hereby established. The purpose of establishing this Fund is to offer additional opportunities for financial assistance to exceptional and outstanding students beginning or continuing their studies at Ferris State University. By its execution of this agreement, the Ferris Foundation acknowledges that any property that may be contributed to the Fund shall be held by it pursuant to the terms of these guidelines.
The Fund shall be maintained as an endowment. The principal of the Fund shall be preserved and the investment proceeds only, as defined by the Foundation's investment and spending policies, shall be used for the support of the Foundation for Excellence Scholarships at Ferris State University.
The following criteria shall be used to select recipients of The Ferris Foundation Opportunity Endowed Scholarship:
The scholarship shall be awarded to full-time undergraduate students enrolled at Ferris State University.


The recipient shall have a minimum 3.25 GPA at the time of application.


Candidates for this scholarship need to be able to demonstrate multiple situations in which they have overcome obstacles related (but not limited) to social, economic, diversity or gender status.


Financial need may be considered. The financial need will be determined by the Office of Scholarships and Financial Aid.


The amount of the scholarship shall be determined by the awarding department, The Ferris Foundation, based upon the endowment's available spendable dollars.


A minimum of one scholarship shall be awarded annually, if sufficient spendable dollars are available. However, it is the discretion of the awarding department, The Ferris Foundation, to determine whether more than one scholarship will be awarded.
For additional information, please contact Kim Erickson at (231) 591-2365 or [email protected].