2017 Pacesetter Award Winner: Javier Olvera
College of Engineering Technology, Product Design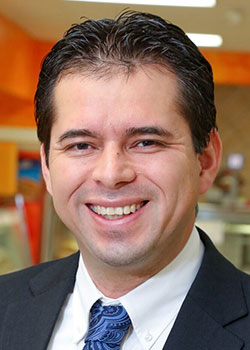 Javier Olvera graduated from Ferris State University's College of Engineering Technology in 2003. He is the owner and president of Supermercado Mexico, La Tapatía and Mexicana Bakery of Grand Rapids, Michigan.
Olvera, his family and associates acquired the existing La Tapatía in 1996 and Chicago Drive Supermercado Mexico in 2010. In 2011, they broke ground on the Division Street Supermercado Mexico, which later expanded from a grocery to a commercial property. The combined overall growth of Olvera's enterprises has averaged 28 percent per year since 2006.
Supermercado Mexico was nominated as Business of the Year in 2014 and 2015 by the West Michigan Hispanic Chamber of Commerce and was awarded as one of Michigan's Top 50 Companies to watch in 2012 by the Edward Lowe Foundation. It was nominated for the Grand Rapids Chamber of Commerce's EPIC Minority Business of the Year Award in 2015 and 2017.
Olvera is highly active in area business and civic organizations, serving as advisor for WMHCC since 2011 and a member of the Board of Directors for the Grand Rapids Chamber since 2016. He served on the Hispanic Center of West Michigan Board of Directors from 2001 to 2014 and on the Board of Directors for the Roosevelt Park Association in 2016. He has provided support and served as a volunteer for the Mexican Heritage Festival since 2012.
Olvera and his family arrived in the United States when he was 16 years old and worked as farm laborers. He had to take additional classes to communicate successfully in English. Since 2010, he has partnered with the Grand Rapids newspaper El Informador to provide jackets and backpacks to children in need. He also provides mentoring, tours and workshops to students of Ferris' College of Business.