2017 Pacesetter Award Winner: Carlvin Dorvilier
College of Business, Advertising/Integrated Marketing Communication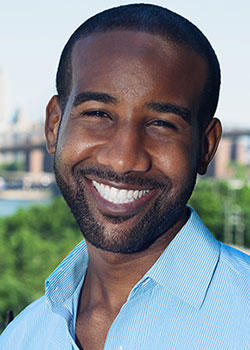 Carlvin Dorvilier graduated from Ferris' College of Business in 2013 and is a national digital account manager for Runner's World with healthy-lifestyle publishing company Rodale.
Dorvilier previously worked as a corporate digital sales planner with Rodale—which also represents brands such as Men's Health, Women's Health and Prevention—where he increased digital net revenue and ultimately managed $2.5 million in campaign recaps. He has fostered Runner's World key digital clients and successfully integrated its team's content, marketing and sales efforts, creating customized advertising programs for clients.
He was awarded as Rodale's 2015 Corporate Digital Sales Planner of the Year and for Best Collaboration at Runner's World. Previously, he also was part of Yahoo's Vision and Machine Learning team as an account manager for Tumblr. He was a panel speaker for the HBX CORe ConneXt ceremony, a certificate program on business fundamentals from Harvard Business School, and was personally introduced by Harvard Business School Dean Nitin Nohria. Dorvilier is scheduled to appear on financial strategist Farnoosh Torabi's podcast "So Money" in October 2017 and maintains a personal active-lifestyle website, carlvind.com.
When Dorvilier was 15, he lost both parents and, on his own, worked three jobs and took up running as a proactive means of dealing with his many challenges. His story was featured in the viral media phenomenon "Humans of New York." His charitable activities include participation in iMentor, a nonprofit that provides college-educated mentors to students of high schools in low-income communities. He also volunteered at the 2016 Summer Rio Olympic Games, where he assisted track and field athletes in preparation for their events and was an on-air guest during BBC Radio Live's Olympic coverage.
Active in the Ferris State alumni community, Dorvilier has been featured in Ferris Magazine (Spring 2016) and in marketing promotions for the AIMC program. He was featured in President David Eisler's 2013 Commencement Ceremony remarks.