2015 Pacesetter Award Winner: Emily Coles
College of Optometry, Doctor of Optometry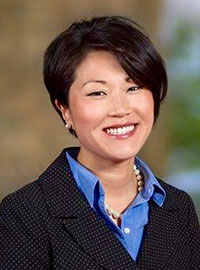 Emily A. Coles graduated from Ferris' Michigan College of Optometry in 2008. She currently works as an optometrist with Optometric Associates of Big Rapids, Michigan. With professional specializations in pediatric and geriatric vision care, specialty contact lens fitting, and diagnosis and treatment of glaucoma, Coles has previously served as an optometrist for Walmart Vision Centers and The Crew Eye Center. She also currently serves as an adjunct clinical faculty member for the Michigan College of Optometry. She is a 10-year member of both American and Michigan Optometric Associations.
Coles is extensively involved in her community, serving for a number of community organizations, including the Brownfield Redevelopment Authority, Chemical Bank Community Bank Board, Riverview Elementary Parent Teacher Organization, Susan P. Wheatlake Festival of Races and United Church of Big Rapids Youth Ministry. She actively supports and contributes to diverse community activities including the annual Tuba Bach concert series and the Festival of the Arts.
A self-described "proud Bulldog," Coles continues to serve her alma mater as a member of the Michigan College of Optometry Alumni Board, on which she has served since its creation, and the Ferris State Alumni Board. She also serves as a mentor to pre-optometry students.