2013 Pacesetter Award Winner: Douglas Searles
College of Arts and Sciences, Applied Mathematics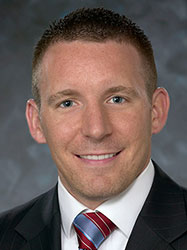 Doug Searles is a senior product manager at Whirlpool Corporation in Benton Harbor, Mich. In that capacity, he has led the company's most profitable engineering and manufacturing team; improved year-over-year operating profit and market share in a time of industry decline; led a global operating platform project team; and mentored colleagues in leadership development, communication, writing and analytical skills, and career management. Whirlpool has recognized Doug's achievements by bestowing its Outstanding Performance Award upon him for three consecutive years, from 2008-10, and its Excellent Achievement Stock Award in 2011.
Doug is deeply involved with his community. He volunteers at The Chapel Evangelical Free Church in St. Joseph, leading a study group of more than 100 men, and coaches in the St. Joseph American Youth Soccer Organization.
As a student at Ferris, Doug earned many awards for both academics and athletics, and has remained close to his alma mater. Since October 2008, he has served as an advisory board member for the university's Honors Program. He also has carried on his love of learning, earning an MBA from the Yale School of Management in 2008.