2011 Pacesetter Award Winner: Recco Richardson
College of Business, Public Relations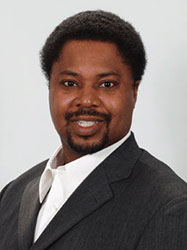 Recco Richardson serves as a mental health professional, providing clinical assessments, individual and family counseling, and other services through Recco S. Richardson Consulting, Inc. He also teaches master's-level counseling courses as an adjunct faculty member with Spring Arbor University in his hometown of Flint, Mich. An American Psychotherapy Association board-certified counselor, he also is a State of Michigan licensed professional counselor.
Richardson serves his community as an anger management group facilitator at Scott Elementary School, a board secretary at Carman-Ainsworth Schools, a family consultant at Genesee Special Education Support Group, a board member at Richfield Charter Academy School and the health committee chair at Flint Community Schools, among other volunteer roles.
He has given many presentations and interviews, and has written and published on a range of mental health topics, including bipolar disorder, school anxiety, childhood and adult depression, and youth violence.