2011 Pacesetter Award Winner: Corey Wiggins
College of Business, Business Management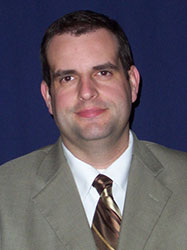 Corey Wiggins graduated from Ferris with his bachelor's degree in Business Management in 2002 and went on to Thomas M. Cooley Law School, where he earned his Juris Doctor degree in 2007.
A named partner and practicing attorney for the Traverse City area firm Zirnhelt, Bowron & Wiggins, Corey's professional affiliations and service include serving on the board of the Grand Traverse-Leelanau-Antrim Bar Association, where he currently holds the post of treasurer and has helped coordinate the association's Toys for Tots donation drives.
Corey is an exceptionally energetic community servant and volunteer. He is an active supporter of local youth, providing assistance to the McBain Public Schools Band and serving as a youth debate judge for the Youth in Government Contemporary Issues Forum held annually at Thomas M. Cooley Law School. He also volunteers for the Third Level Crisis Center legal aid clinic and serves on the Grand Traverse Regional Community Foundation's Charitable Giving Advisory Committee. Corey also is active in local government, serving as the vice chair of the Wexford County Planning Commission and secretary of the Haring Charter Township Planning Commission, in addition to serving on Haring Township's board of review.