2007 Pacesetter Award Winner: Scott D. Seifferlein
College of Business, Marketing/Professional Golf Management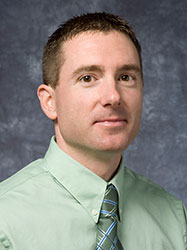 Scott Seifferlein, owner and president of Seifpro, LLC, provides expert golf instruction including use of state-of-the-art video analysis software in his capacity as PGA director of instruction for Mines Golf Academy, which he founded in Grand Rapids.
His expertise landed him in the pages of Donald Trump's bookThe Best Golf Advice I Ever Received, as featured instructor. Seifferlein's community service includes support for the Walker Police and Fire Memorial and the Grand Rapids Jaycees. Along with James Lusk, he established the Lusk/Seifferlein Golf Team Scholarships at Ferris in 2006.
Always a competitor, Seifferlein's playing accomplishments include being West Michigan PGA chapter champion in 2000 and U.S. Open local qualifier medalist in 2004.
He also was on the FSU golf team from 1997 until 2000.
Seifferlein and his wife, Mary, live in Walker. Mary is also a Ferris alumna and they are expecting their first child this spring.