2009 Pacesetter Award Winner: Scott French
College of Business, Business Administration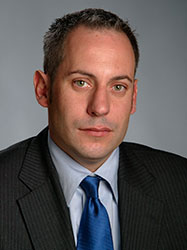 Scott Howard French has been with Lear Corporation for 10 years, first as a project leader and now as their vice president for GlobalMetal Operations, which is responsible for annual global sales of approximately $1.1 billion.
Along the way, he has been a plant manager; director of Operations, United Kingdom; director of European Metal Operations; director of European Metals; and vice president, Operations European Interiors. At each step, he either improved profits or returned under-performing units to profitability. In naming him to their "40 Under 40" class of 2008, Crain's Detroit Business cited French's ability to lead "the financial turnaround of Lear's money-losing European interiors operations in 2004-2005, improving product quality and earning $175 million in new business."
Although frequently in Shanghai, China, on business, French lives in White Lake, Mich. with his wife, Sherri, and their two children.