2009 Pacesetter Award Winner: Mimi Miles
College of Arts and Sciences, Technical Communication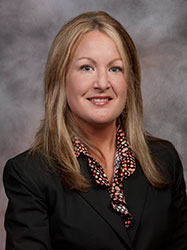 Mimi Miles has built an impressive resume in a short period of time. She has been team leader in Marketing Communications for Adobe Software; director of Marketing and Creative Services for Whittman-Hart/marchFIRST; consultant for such major clients as Whirlpool, Amway Corporation and Steelcase; director of Marketing and Communications and a member of the executive management team at ISD Corporation; Marketing Communications Operations director at Dassault Systems; and vice president of Global Marketing at Trubiquity, a company that provides software-based data management and system interoperability software for the automotive, aerospace and manufacturing industries, which was selected as one of Michigan's Top 50 Companies to Watch in 2008.
This spring, Miles joined the team at Covisint, a subsidiary of Detroit-based Compuware Corporation. Reporting directly to the company president, her primary responsibilities include product marketing for all of Covisint's manufacturing and healthcare business units.
She lives and works in Rochester Hills.