2007 Pacesetter Award Winner: Barbara L. Horn
Michigan College of Optometry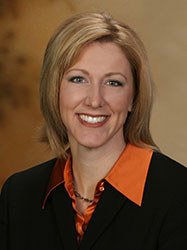 Barbara Horn, the American Optometric Association's 2006 Young Optometrist of the Year, received the award last year at the AOA's national meeting in Las Vegas, Nevada. Horn was also named the Michigan Optometric Association's Young Optometrist of the Year at its 2005 annual meeting. She received the MOA's Key-Person award in 2003 and Student of the Year award in 1997.
Some of Horn's many civic activities include providing free eye care and eye wear to numerous Hurricane Katrina evacuees, providing free eye assessments to all infants 12 months and younger as part of AOA's InfantSEE program, taking part in a volunteer optometric service mission to St. Lucia, and providing free eye care during the 1997 Special Olympic World Winter Games.
Horn is co-owner and president of ExpertEyes Family Eye Center and Optical in Washington, Mich. She and her husband, Michael Weisgerber, have four children.