2009 Pacesetter Award Winner: Kathy Lemieux
College of Business, Management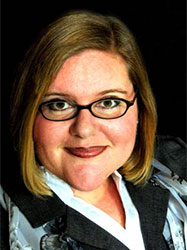 Since becoming Miss Wheelchair Michigan in March 2008, Kathy Lemieux has read to hundreds of elementary school children to help increase understanding of those with disabilities, been interviewed for many publications, and taken part in parades, fundraisers and awareness-raising events.
Last July she expanded her ability to advocate for the more than 52 million Americans with disabilities by competing in the 2009 Ms. Wheelchair America pageant in Rockville, Maryland, where she finished the national competition as third runner-up.
Lemieux is director of development for the MOKA Foundation. In that capacity, she utilizes her Ferris Business Management degree, along with her professional corporate experience, to help provide services for the families of children with autism and other disabilities in Allegan, Kent, Muskegon and Ottawa counties.
Kathy and her husband, David, live in Fruitport.