College of Business
Associate in Applied Science – Audio/Visual Studies
Bachelor of Science – Marketing/Sales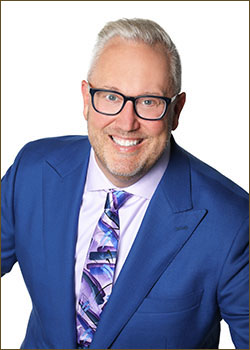 Luke Wyckoff graduated in 1991 with an associate degree in Audio/Visual Studies and a bachelor's degree in Marketing/Sales in 1993 from the College of Business. After spending 12 years at Development Dimensions International (DDI), an assessment and leadership development company, he is now the founder and president of Wyckoff Consulting, an executive search firm, and the founder and chief visionary officer of Social Media Energy, the nation's leading provider of outsourced social media and digital marketing services.
A native of Sheridan, Mich., Wyckoff was inspired by his father and his grandfathers, all successful businessmen and pillars of the community. Because of their influence, he always knew he would run his own company. An entrepreneur at heart, Wyckoff has built a multimillion-dollar company from scratch with nothing more than a vision and an idea. Social Media Energy has experienced double-digit growth seven out of 10 years, and through Wyckoff Consulting he performed 78 successful searches utilizing "The Science of Search," his trademarked behavior and culture fit analysis that maps executive fit to C-level cultures.
He has received many accolades throughout his career, including being named a Very Impressive Performer with DDI on multiple occasions, and most recently, as one of the top five fastest growing private companies in Colorado by the Denver Business Journal.
Wyckoff is an avid supporter and alumnus. During his time at Ferris he co-founded the rugby club team, was co-captain for two years of the University's national championship debate team and photographed events on campus. He was also involved in Greek life, serving as the recruitment director for the Lambda Chi Alpha fraternity and as president of the Interfraternity Council. He has served on the College of Business Dean's Advisory Council, the Alumni Association board of directors, and is founder of the Ferris State Mile High Bulldogs, regularly hosting two events per year for Ferris graduates and friends in Colorado. He routinely returns to campus to speak to students, faculty and staff, to share his insights on social media and career preparedness.
Wyckoff has had a tremendous impact in his home community of Sheridan, in addition to West Michigan, Colorado and across the world. He helped found five new churches in India and is actively involved in many social, economic and political organizations that benefit local and regional communities.