College of Business
Associate in Applied Science – Real Estate and Insurance
Bachelor of Science – Business Administration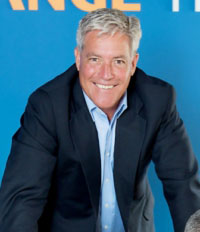 Randy Phelps graduated from Ferris' College of Business in 1981 with two associate degrees, Insurance and Real Estate, and in 1983 he earned his bachelor's degree in Business Administration. He is the principal/relationship manager of HNI Risk Advisors of Michigan, a performance-driven risk advisory that delivers insurance, benefits and de-risking strategies. He is a certified risk manager, insurance counselor, risk advisor and has served on many insurance company advisory boards over the past 30 years.
Ferris State University has been an important part of Phelps' life, and he enjoys giving back to his alma mater. As a long-time advocate and supporter of Ferris State University, he was a member of The Ferris Foundation board of directors for 20 years, an avid supporter of many events and functions at Ferris State University, in addition to Bulldog Hockey and the Blueline Club.
Phelps is involved with many community organizations including serving as a board member of the Michigan Brain Injury Association. He supports March of Dimes, Hospice of Michigan and Kids Food Basket program. He is also a proud supporter of the Peckham Inc. and the Peckham Foundation, a non-profit organization that provides job placement and training for persons with disabilities or other barriers to employment. He enjoys traveling, playing golf, watching sports, and mentoring those in the insurance industry.