College of Arts, Sciences and Education
Bachelor of Science – Social Work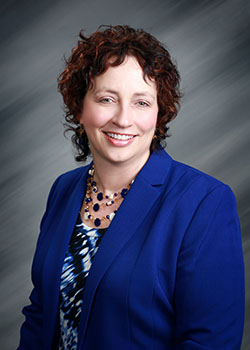 Pamela Curtis graduated from the College of Arts, Sciences and Education in 1986 with a degree in Social Work and is the chief executive officer of Senior Resources of West Michigan, a nonprofit organization that provides services for older adults in Muskegon, Oceana and Ottawa counties.
Under her leadership, Senior Resources received a three-year period accreditation and reaccreditation from CARF, the international accrediting body, for its Case Management and Home and Community Services programs. Other accomplishments throughout her tenure include receiving four National Association of Area Agencies on Aging Achievement Awards and a number of media awards for the non-profit's Senior Perspectives newspaper.
Curtis has created a cultural diversity committee at Senior Resources to provide staff with continued education and training on topics such as cultural bias, various cultural celebrations and addressing different religious beliefs. Her staff have completed LGBT cultural competency training and received bronze level recognition from SAGE, Services & Advocacy for Gay, Lesbian, Bisexual and Transgender Elders. Senior Resources has developed private pay options during her tenure, to help even more older adults in the region.
She is passionate about helping older adults in her community and tries to share that passion with young people and students. At Ferris, she is a longtime member and past vice chair of the Social Work Advisory Board. In her local community, she is involved with the Muskegon Rotary, and most recently, she has been initiating conversations with Muskegon area community members to develop an avenue that recruits and mentors young professionals of color for involvement in community boards of directors, programs and services. She also enjoys volunteering at food truck distributions, helping support Kids' Food Basket sack suppers, Alzheimer's walks and participating in drives for winter weather apparel, food, school supplies, and personal care items for those in need in the community, and supporting her children's school activities.
She is a past president of the Area Agencies on Aging Association of Michigan, serves as secretary on the National Association of Area Agencies on Aging board of directors, and has been a presenter at several national conferences. Curtis was a finalist for the 2018 ATHENA of the Lakeshore Award and is a N4A Leadership Institute and Johnson Center CEO 201 Management and Leadership Program graduate.
She is especially proud of the growth of Senior Resources during her time as CEO, from a $10.2 million budget in 2005 to $25.7 million in 2018, and a staff of 35 to more than 100.
Curtis fully believes that when we give back to our community, we gain so much more than we give.