College of Business
Bachelor of Science in Finance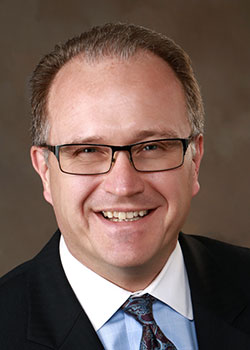 Jerome Schwind graduated from Ferris State University's College of Business in 1990 before obtaining his master of business administration from Lake Superior State University. He is president and chief operations officer of Isabella Bank, which he has served in a variety of executive roles since 1999.
Schwind has more than 20 years of experience in the banking industry and is a member of the Grassroots Committee of the Michigan Bankers Association. In addition to his Ferris State and Lake Superior State credentials, he also is a graduate of the Dale Carnegie Executive Development Program, the Graduate School of Banking at the University of Wisconsin and the Rollie Denison Leadership Institute. Prior to his current roles for Isabella Bank, he served as its executive vice president, chief integration officer and director.
At his alma mater, Schwind serves as an adjunct faculty member as well as a member of the Finance Curriculum Advisory Counsel for the College of Business. He formerly was a chair of the Friends of Ferris advocacy group for Ferris State University, on the board of which he also served for several years. He also is a former rider coach for the Motorcycle Safety Foundation administered through Ferris.
Known as an active supporter of numerous community organizations, Schwind is treasurer of the Middle Michigan Development Corporation. Formerly, he has served as vice-chair and Finance Committee member of Mecosta County Medical Center, and as a Mecosta County Area Chamber of Commerce Ambassador. He also has served as chair of Leadership Mecosta, and with the Big Rapids Area Industrial Development Corporation and Mecosta County Economic Development Corporation.
Schwind also serves as the director of Alliance for Health, a West Michigan community coalition dedicated to reducing health care costs to individuals and businesses, for which he formerly was treasurer. He is a former member of the Kiwanis Club and Rotary Club.