College of Engineering Technology
Associate in Applied Drafting
Bachelor of Science in Construction Management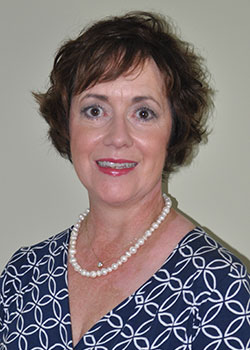 Kimberly Ridings graduated from Ferris' College of Engineering Technology in 1980 with an associate in Applied Drafting and in 1993 with a Bachelor of Science in Construction Management. She obtained a Master of Management from Aquinas College in 1999. She is vice president of Property Management with Eagle Management Company of Ada, Michigan.
Ridings, the third-ever female graduate of Ferris' Construction Management program, has worked in the construction industry for 37 years. Serving in roles ranging from estimator to senior project designer, she became a Certified Professional Constructor with the American Institute of Constructors in 1998. Eagle Management oversees 500,000 square feet of office buildings in the greater Grand Rapids area.
A career-long advocate for women in the construction industry, Ridings has been a member of the Cascade Downtown Development Authority since 2015 and was named one of Grand Rapids Business Journal's 50 Most Influential Women in 2016.
Ridings has applied her professional expertise to her activities for the Mary Free Bed organization, an acute care rehabilitation hospital for children and adults with disabilities or recovering from major illness and injury. She provided critical support in the design and construction of Mary Free Bed Rehabilitation Hospital campus and the universally-designed Mary Free Bed YMCA.
Ridings has served the Mary Free Bed Guild since 2003, currently as a member of its Board of Trustees and previously as its president (2014-16). She was chair of the Guild's 125th Anniversary Celebration and was a member of numerous committees of the MFBRH Board, including Architectural Oversight, Executive and Finance. She also has served the Mary Free Bed Fund Board extensively, as its president since 2016 and a member since 2009. She has played a significant role in the expansion of the Mary Free Bed Network into West Michigan and was awarded as the YWCA Woman of Achievement in 2010 and with the AMBUCS Marge Wilson Community Leadership Award in 2016.
Ridings serves Ferris State's College of Engineering Technology as a member of its industry advisory board for the Construction Management program and as a mentor to program students.