College of Business
Bachelor of Science in Marketing – Professional Golf Management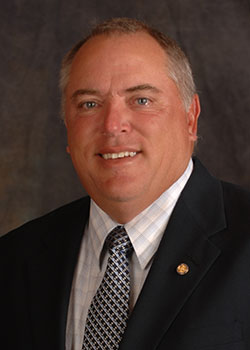 David Kendall graduated from Ferris State University's College of Business as a member of its inaugural Professional Golf Management class in 1980. He is the owner and founder of Kendall Golf Academy in Ypsilanti, Michigan, and one of the founders of the Golf Channel Academy's network of Lead Coaches.
In 1981, Kendall became the first Professional Golf Association Golf Management alumnus from Ferris State to be appointed as a head professional when he was promoted from assistant professional at the Cadillac Country Club in Cadillac, Michigan, where he worked for 16 years. In 1997, he opened the Kendall Academy at Miles of Golf in Ypsilanti, initially serving as the sole instructor. In its 20 years, the academy has grown to include nine instructors; its students have proceeded to win junior, high school, state and club championships, and its college players have gone on to professional tours.
Kendall has been a Golf Range Magazine Top 50 Instructor and ranked second on Golf Digest's list of Top Teachers in Michigan. He also is a top player, with two Michigan Senior Open Championships, a Senior Professional Golf Association Championship and a Senior PGA Match Play Championship. He has won the PGA State Pro-Pro three times, the State Pro-Am and has played on six Fuller Cup teams.
An active member of the PGA's Michigan Section, Kendall has served a total of 23 years on its Board of Directors at virtually every level and was inducted into the its Hall of Fame in 2013. He has received numerous other awards, including Michigan PGA Golf Professional of the Year honors in 1991 and 2006, its Horton Smith Award for professional education, and PGA Section Teacher of the Year. He was inducted into the Michigan Golf Hall of Fame in 2015.
In 1995, Kendall led the Cadillac Country Club's sponsorship of a six-week golf program for a local Special Olympics chapter, providing golf equipment and lessons to program participants. He was later honored with the chapter's Corporate Sponsor of the Year Award. Kendall joined other community leaders in 2006 to create Golf Links Detroit, a nonprofit golf organization that promotes the well-being of Metro Detroit youth and their families through golf-focused programs and community-building initiatives.