College of Education and Human Services
Bachelor of Science in Teacher Education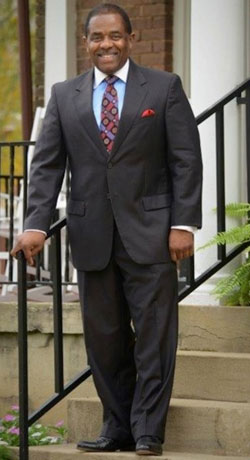 Billy C. Hawkins graduated in 1976 from Ferris State University's College of Education and Human Services. He earned his master's degree in Education Administration at Central Michigan University before completing a doctorate at Michigan State University in 1985. Since 2008, Hawkins has served as the President of Talladega College, a private liberal arts College in Talladega, Alabama. He is author of the books "Reaching for the Stars" and "Educating all Students: A Pathway to Success."
Hawkins has served multiple institutions in his more than 35-year career in educational leadership. He served as president at Texas College, located in Tyler, Texas, from 2000 to 2007. From 1995 to 1999, he served as vice president of St. Paul's College, before which he served in numerous instructional and administrative roles for Ferris State's College of Education and Human Services.
He has helped institutions overcome considerable challenges. Under his leadership, major enrollment, fiscal and legal threats to Talldega College were successfully resolved. In 2001, he led efforts that resulted in Texas College's most successful accreditation ever despite a 10-year lapse in its accreditation. He also led the successful effort to reinstate the college into the United Negro College Fund—a first in UNCF history. In 2017, he traveled with leaders of historically black colleges and universities to Washington, D.C., to advocate for HBCUs, after which President Donald Trump signed the Feb. 28, 2017 Executive Order for HBCUs.
Hawkins also has raised millions of dollars toward university initiatives, including major facility renovation and program development projects. Most recently, he has secured government funding for construction of Talladega College's new William R. Harvey Art Museum. Since 2004, he has raised $8 million in unrestricted funds and $20 million in new grants for his institutions.
He also is the first African American chairman of the Board of Directors of the Alabama Association of Independent Colleges and Universities. In addition to his professional roles, he is an active member of alumni and community organizations including the United Way (Board of Directors) and Ferris State University Bulldog Club (Board of Directors).
Hawkins has been recognized at local and national levels for his professional and community work. He delivered the keynote address to the Committee on Education and Labor National Summit of the U.S. House of Representatives in 1994, was a gubernatorial appointee to the Southside Virginia Business and Education Commission in 1998, appeared on ABC Evening News with Peter Jennings in 2001 and was featured on the cover of Diverse Issues in Higher Education in 2014.