College of Pharmacy
Bachelor of Science in Pharmacy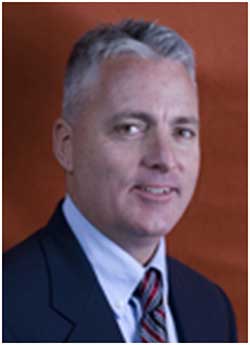 Jon Sprague graduated from Ferris' College of Pharmacy in 1989. He is the co-founder and director of technology for Genomic Guidance LLC in Ada, Ohio. He also is currently director and BCI Eminent Scholar at the Ohio Attorney General's Center for the Future of the Forensic Sciences at Bowling Green State University. He served as director of academic research at Ferris and director of research and discovery for the College of Pharmacy from 2013 to 2014. His extensive research background includes more than 70 peer- reviewed research articles.
In his work at Bowling Green, Sprague has initiated and championed undergraduate and graduate forensic science education, managed state appropriations for forensic science research and education, served as a university liaison to the
Ohio State Bureau of Criminal Investigation, established an internal grant submission process, and initiated and led university-wide forensic research. At Ferris, he initiated and coordinated the university's research efforts and obtained external funding for the university's Shimadzu Core Laboratory.
As dean of pharmacology for Ohio Northern University's Raabe College of Pharmacy from 2006 to 2013, he completed a $5.5 million facility addition and established more than $3 million in alumni support for a Pharmacy Skills Enrichment Fund. He increased the college's research funding 15-fold.
Sprague has received numerous professional honors, including the Good Government Award of the Ohio Pharmacists Association in 2016, Ferris' P1 Outstanding Professor and Phi Lambda Sigma Leadership awards. He has won at least one institutional or professional organization award for quality of instruction annually since 1993.
In addition to giving his time as a youth and school tennis coach in his Bluffton, Ohio, community, Sprague serves on the Institutional Review Board for Lima Memorial and St. Rita's hospitals, as well as in leadership roles for Bluffton Presbyterian Church. He continues to serve Ferris State as a member of its Pharmacy Forward campaign committee and Accreditation Council for Pharmacy Education Self-Study Steering Committee.