College of Pharmacy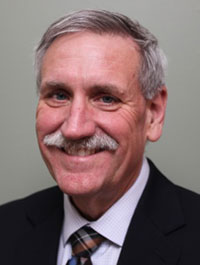 After graduating Ferris State University in 1979, Andrew Young returned to Durand, Mich., and worked for his father at Thompson's Drug Store, which Andrew purchased two years later and owned until 1992. Shortly thereafter, he began his continuing service of more than 20 years for Rite Aid Pharmacy. Working as a pharmacy manager, pharmacy district manager and total store district manager for Rite Aid until 2003, Young has since become part of Rite Aid's professional and college recruitment efforts in Michigan, Ohio and Kentucky.
Young served on the Michigan Pharmacist Association Executive Board from 1989 to 1996, as its president in 1994-95. He also served as a trustee of the Michigan Pharmacy Foundation from 1998 until 2005, and served as chairman of its board from 2005-2011. During that time, he reestablished the bylaws of the foundation and initiated its capital campaign. Today, he is a member of the Genesee County Pharmacists Association, Michigan Pharmacists Association and American Pharmacists Association.
Serving the profession of pharmacy over the past 39 years as a student and as a pharmacist, Young has been honored with a variety of awards, including Genesee County Pharmacist of the Year, Michigan Pharmacist Association Pharmacist of the Year, Linwood F. Tice Friend of the Academy of Student Pharmacists honors, the National Community Pharmacists Association Pharmacy Leadership Award, the Clark Andresen Award for Distinguished Pharmacy Alumnus from Ferris' College of Pharmacy, and the Rite Aid's Recruiter of the Year Award.
An active member of Ferris' Alumni Association Board, Young also has served as board member and past president of the College of Pharmacy Alumni Association. He has provided interview technique presentations, sponsored the Pharmacy Leadership Society Installation banquet, served as a guest speaker and increased the amount of scholarship funding provided to students from the Rite Aid Corporation. Passionate about the growth of his profession and about helping new graduates reach their potential as health care providers, Young has committed remarkable time and energy to support Ferris Pharmacy and its students.