College of Arts, Sciences and Education
Human Services Administration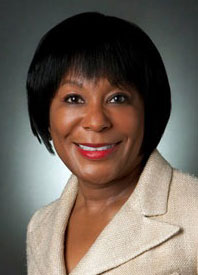 Vivian Pickard has dedicated her life to promoting multiculturalism, education, health and human services, and community and environmental development. For 34 years, she has served General Motors in vital roles in human resources, finance and public policy, and in her current role as president of the General Motors Foundation and director of GM Corporate Relations. Over the past decade, the GM Foundation has donated over $300 million to support cultural diversity, student scholarships, vehicle safety education and vital non-profit organizations.
Pickard's extensive community advocacy includes service on the boards of the Council of Michigan Foundations, CultureSource, Detroit Regional Chamber Foundation, Fifth-Third Bank – Eastern Michigan, Friends of African and African American Art – Detroit Institute of Arts, Habitat for Humanity International, The Memorial Foundation Inc., The Parade Company, St. John Providence Health System, the Sphinx Organization, and the Trumpet Awards Foundation. She is a member of the National Urban League's National Employer Advisory Council, past president for The Black Women's Agenda Inc., immediate-past board chair of Inforum, an officer for the Detroit Economic Club, and as a member of the Executive Leadership Council and the Executive Committee for The Links Inc.
Her honors include the Michigan Chronicle's 2009 Woman of Excellence Award, Inforum's 2010 Inner Circle Award, the 2011 Bridge Builder Award from the Rainbow PUSH Coalition and the 2011 Alpha Award of Honor from Alpha Phi Alpha Fraternity Inc. In 2013, she received recognition from One Hundred Black Men Inc. of New York City and the Rhonda Walker Foundation. Pickard was presented with the Global Community Award at the 2014 North American International Auto Show Multicultural Media Luncheon.
Pickard earned her Bachelor of Science in Human Services Administration from Ferris in 1977.