College of Engineering Technology
Technical Drafting and Tool Design
College of Business
E-Commerce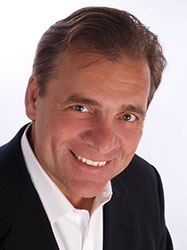 Mike Suman is that rare individual who is an inventor and innovator as well as an entrepreneur. In Mike's own words, "Inventors dream about a better way. Innovators make the dream a product. Entrepreneurs transform the product into a business."
Mike has impressive credentials as both an independent businessman and a corporate executive. He is owner of Product and Market Development, LLC, located in Caledonia, Mich., and in that capacity advises corporations on accelerating growth. He has designed, or co-designed, and launched a number of successful products, including iLean flexible shelving and the e-display holder for electronic readers and tablet computers. Besides sharing his business acumen through his company, Mike authored the book "Should Your Idea Become a Business?" and hosts a weekly radio show, "Innovation Talk," on WGVU. He is a partner and an advisor to the group Start Garden, a $15-million business incubator located in downtown Grand Rapids.
In the corporate world, Mike has worked in Engineering and Development for the Oldsmobile Division of General Motors, and served as a vice president of Prince Corporation. He leadership skills were instrumental as group vice president of Sales, Business Development, IT, PR and Marketing for the automotive division of Johnson Controls, Inc.
Generously sharing his time and experience with Ferris students, Mike has judged innovation competitions on campus, spoken regularly to classes and served on the Business School Advisory Board. He continues in his several years of service on Ferris' E-Commerce and Marketing program advisory boards.