Michigan College of Optometry
Doctor of Optometry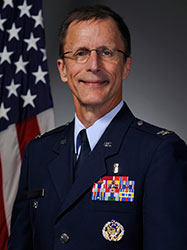 Colonel George Nicolas Jr. is the director of the Biomedical Sciences Corps and Chief of the Senior Leader Management Division of the Force Management Directorate with the Office of the Surgeon General. Col. Nicolas formulates and executes policy for the BSC force development, promotion, and education assignments, as well as for recruitment and retention for more than 2,300 officers in 18 specialties. Additionally, he manages the education, command screening boards and assignment of nearly 900 senior medical service officers.
In addition to numerous in-garrison and deployed command assignments, culminating in command of the 325th Medical Group, Col. Nicolas served as the Deputy Assistant Surgeon General for Healthcare Operations with the Office of the Surgeon General, where he oversaw the provision of healthcare policies and programs in support of Air Force global capacity, national security strategies, and 43,000 personnel serving 2.4 million beneficiaries through 75 medical treatment facilities worldwide, with a budget of $5.1 billion.
Col. Nicolas is a 1983 graduate of Ferris' Michigan College of Optometry and was commissioned a Biomedical Science Corps optometry officer. His optometry credentials include residency training, board-certification and fellowship in the American Academy of Optometry. His awards and decorations include the Legion of Merit, Bronze Star, Air Force Meritorious Service Medal with four oak leaf clusters, Air Force Commendation Medal with one oak leaf cluster, Air Force Achievement Medal and Global War on Terrorism Expeditionary Medal.