College of Business
Business Administration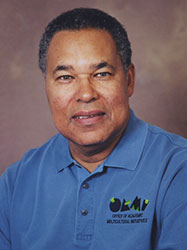 Dr. John Matlock received his bachelor's degree in Business Administration from Ferris State in 1971, but it was only the first of many milestones that would highlight an exceptional career in education, both as a student and an educator. John later received a Master of Arts and doctorate from the University of Michigan, where he currently serves as the associate vice provost and executive director of the Office of Academic Multicultural Initiatives at U-M.
John's career in public service and education includes accolades for journalism, teaching, community relations, and government service. While serving for 10 years as chief of staff for U.S. Representative John Conyers of Detroit, Mich. and former U.S. Representative Harold Ford Sr., John had the honor of meeting and working with the late civil rights leader Rosa Parks for five years. His primary academic research, better known as the Michigan Student Study Project, is recognized as a national cornerstone for assessment in the field of diversity initiatives in higher education and has made John a recognized and sought-out expert in his field. He has lectured at more than 200 campuses and other venues, and has published numerous articles and books.