College of Engineering Technology
Printing Management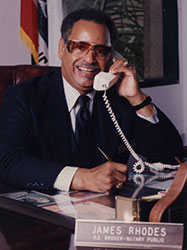 A few years after graduating from Ferris State University as valedictorian of his class in 1959, James Rhodes moved to California and was hired at CBS in the mail room, charged with operating the multi-lift offset printing press. He was promoted over the years and finished out his career at CBS as the first black studio manager of a major motion picture studio, overseeing 12 different departments and a multi-million dollar complex.
In 1982 Rhodes switched gears and entered the then lucrative real estate business and had a very successful career.
Rhodes retired from Century 21 Realty in 1994 to develop Legends Properties under which are five licensed adult foster care homes housing more than 30 mentally and physically challenged youth and adults in Grand Rapids. Rhodes says he's now an agent for the under-represented, and that because others imagined more for him, he imagines more for the disadvantaged and marginalized residents of society. Legends Properties is his philanthropic approach to addressing and recognizing the needs of those who also want to imagine more.