College of Business
Business Administration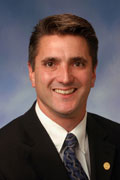 State Rep. Tim Moore was elected in November 2004 to his first term in the Michigan House to represent residents in Arenac, Clare, Gladwin and northern Bay counties. He was re-elected to his second term in 2006. In 2005 Moore was named Legislator of the Year by Safari Club International; to help provide free books to the disadvantaged; and in 2007 he was the Michigan Association of School Social Workers Legislator of the Year. During his time in the Michigan Legislature, Moore has served as assistant majority whip; chair on House Committees; Tourism Subcommittee chair; vice-chair of the Veterans Affairs Committee; and vice-chair of Banking and Financial Services Committee.
He also serves his community through his involvement in the Knights of Columbus, Clare Rotary, Farwell Chamber of Commerce and other business organizations in Clare County. He and his wife, Andrea, have three boys, T.J., Brennan and Nikolas.