College of Pharmacy
Pharmacy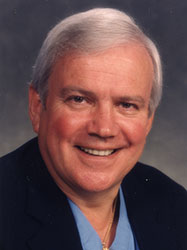 Dr. Ronald Mahoney is director of cardiology at Methodist Sugar Land Hospital in Sugar Land, Texas, and founder of the heart program at Houston's Memorial Hermann Southwest Hospital. He has established outreach clinics in rural communities for patients who aren't able to travel to the big city for specialized heart care, and each week he travels to one of those clinics to treat patients who often can't pay for their medical care.
After graduating from Ferris with a degree in Pharmacy, he earned his medical degree from Loyola Stritch School of Medicine before being drafted into the army. Mahoney was awarded a Bronze Star as well as a Vietnamese Medal of Honor for his service to American troops and Vietnamese soldiers and civilians.
In recognition of his efforts to help those in need wherever he finds them, Ferris State University bestowed upon Mahoney its first-ever Humanitarian Award.
Mahoney, who has eight children, lives with his wife, Donna, in Houston.