College of Education and Human Services
Recreation Leadership and Management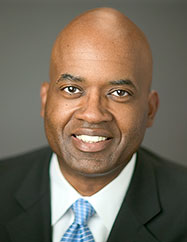 Through his position of Director, Community Health Strategy for Spectrum Health System-Healthier Communities, Paul T. Doyle has been integral in establishing community partnerships to develop strategic community health improvement initiatives, and foster relationships with legislators to increase awareness of health issues as they relate to public policy.
Paul's commitment to healthy communities has resulted in his extensive personal involvement in Grand Rapids civic improvement organizations. He is president of the Kentwood Public Schools Board of Education, founding board chairman of Grand Rapids African American Health Institute Board, incoming chair of Grand Rapids Community Foundation Board, trustee of the March of Dimes' Michigan Chapter Board, on the advisory committee of Healthy Kent 2010, and the list goes on.
Recognition for his community work includes the United Way Project Blue Print Award –"Individual Champion of Diversity" for 2006 and being appointed faculty to the Health Research Educational Trust Culture Competence Leadership Fellowship.
Paul lives in Caledonia with his wife and Ferris alumnae, Celeste, and their three children—Shannon Bell, and Sara and Shavon Doyle.