College of Arts, Sciences and Education
Applied Biology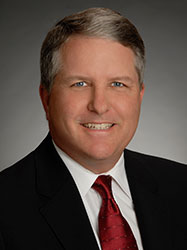 Brian F. Barry is Director of Business Development for Infinite Platinum Group, Inc., in Los Angeles. With more than 20 years of experience in business development, brand marketing and executive career management with Infinite Platinum and other talent acquisition, career services and executive coaching firms, Brian is recognized for transitioning organizations from technology-centered to business/customer-centered cultures, and forging strong multicultural relationships through customer service, innovation, and the integration of cross-functional teams.
His many awards and honors include the United States Air Force Award for Outstanding Achievement in Physics, and the Harvey M. Merker Award for Outstanding Achievement in Chemical Engineering. He is president of the National Human Resources Association's board of directors and serves on the communications committee of the Association for Corporate Growth-Los Angeles chapter. He is also a volunteer career/job counselor for Chrysalis, an organization that helps the economically challenged, ex-convicts and the homeless find employment in Los Angeles.
Brian volunteered to organize Ferris' Alumni Association California-West Coast Chapter and probably owns the only Ferris State University sweatshirt in Moorpark, Calif., where he lives. He is the father of three children—Brendan, Casey and Spencer.