College of Education and Human Services
Science Education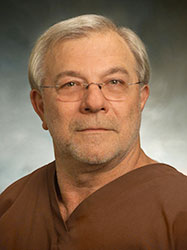 Prior to attending and graduating from medical school at the Michigan State University College of Osteopathic Medicine, where he received the Fred L. Mitchell Award for Excellence in Osteopathic Diagnosis and Therapeutics, Dr. Kurt A. Barrett was captain of both the 1969 and '70 Bulldog football teams. He also was MVP of the school's first unbeaten team in 1968 and was drafted by the Edmonton Eskimos of the Canadian Football League in 1970.
Today, Barrett is an osteopathic physician and surgeon who has practiced in Athens, Mich., since 1977. In 1980 he was elected chief of staff at Lakeview General Hospital in Battle Creek, and also serves as chairperson of the family practice department and director of family practice residency. He is a member of the American Osteopathic Association, the Michigan Osteopathic Association as well as the South Central Osteopathic Society. He has been a speaker at professional and educational meetings as well as service organizations, on radio and local cable TV.
After uncovering the cause of several family members' struggles with unusual medical symptoms, Barrett published his book Are You Sick of Being Sick?, which focuses on gastroesophageal reflux disease, or GERD.
The Battle Creek resident and his wife, Ann, have four daughters.